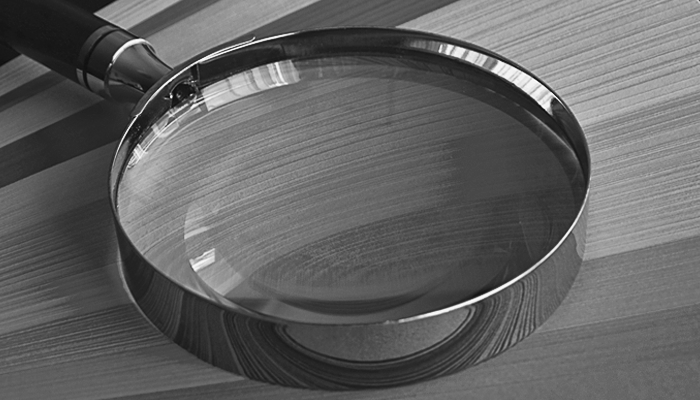 KCIC is offering a free webinar, during which we'll walk through our Bankruptcy Evidence Verification (BEV) tool — including our latest update, which helps you search bankruptcy trust information with greater efficiency and ease.
The need for BEV continues to grow. In our 2017 Asbestos Litigation Report, we discussed the growing number of states that are enacting bankruptcy trust transparency legislation (BTT). Since publication, we have seen two additional states pass similar legislation: Kansas and North Carolina.
One of the first states to pass and enact BTT was Ohio. We took a close look at the potential impact the law may have had on filing trends there, comparing statistics from before and after March 2013, when the legislation took effect.
The resulting analysis showed that not only did filings drop significantly between 2013 and 2014 (45%), but mesothelioma claims also dropped — by 36% during the same time period. While the new law may not provide the entire rationale for the filings drop, it contends to be an important asset in fighting the abuses revealed in Garlock. 
We noted, however, that many states that have passed BTT are not states where we see a significant number of asbestos filings. Therefore, it is still important for defendants to keep bankrupt companies in evidence in the states where they are receiving filings. Determining alternative exposure to bankrupt companies can be a cumbersome and data-intensive process. The research involved requires navigating the 80+ bankruptcy trust sites to identify links between their published exposure listings and the individual plaintiff's exposure. Often this investigation can take hours, if not days.
That is why KCIC created, and continually updates BEV, which allows users to search the publicly available bankruptcy trust information in just seconds. Our database of bankruptcy trust information — including jobsites, products and pictures, occupations, industries, trust documentation, and estimated payment values — has expanded to include: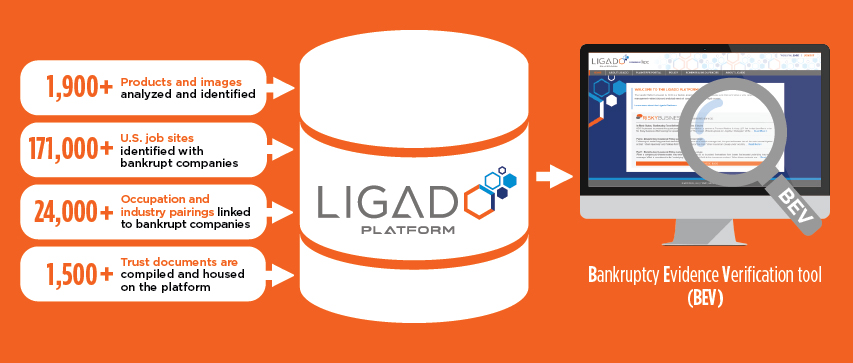 For our latest update, we made BEV's search capabilities even more robust. The general search functionality has been revamped to include multiple sub-searches that allow you to drill down on pieces of bankruptcy trust data across trusts. These specific searches are now offered by trust, jobsite, occupation/industry, product, and document — providing for more efficient and flexible searching. For example: 
Given only a history of employment in Syracuse, N.Y., during a deposition, you can quickly search the Jobsites tab for a list of trust jobsites in Syracuse.

On the Products tab, you can search for specific products based on the availability of a product picture, which we have compiled from various sources.

If you need to find possible alternative exposures based on a claimant's industry, you can compile a list of occupation matches using the Occupations/Industries tab.

Using the Documents tab, you can search for trust TDPs across all trusts and download them with the click of a button.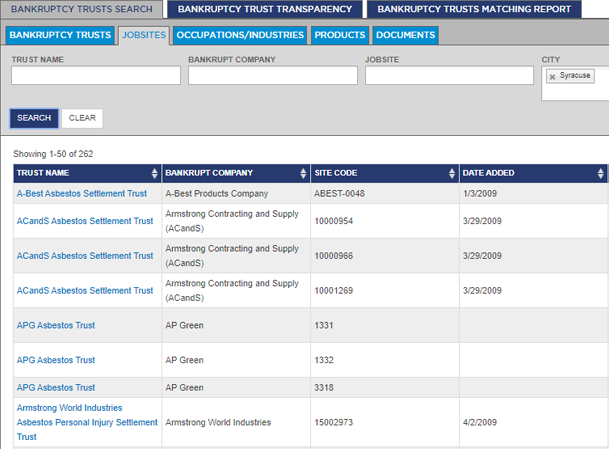 Register here for one of the two webinar dates offered: July 31 or August 9.