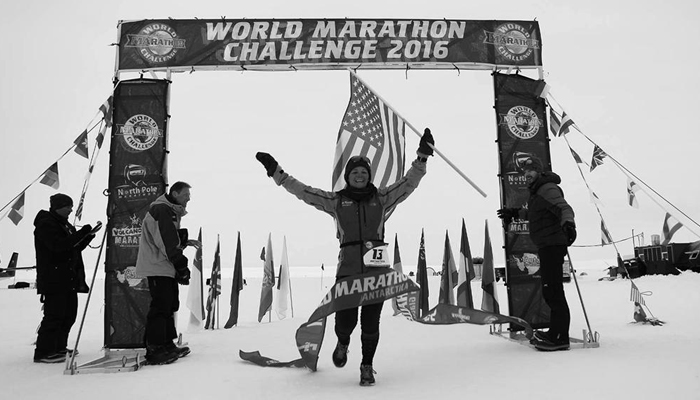 KCIC President Jonathan Terrell is training to compete in the World Marathon Challenge in January 2018 — 7 marathons, in 7 days, on all 7 continents. Each month, he is blogging about his preparation leading up to the race, as well as the important cause that's fueling his effort.
Over the last month, I have really taken my training to the next level by racing in my first three events of the year: a half marathon, a half Ironman, and a full marathon. Also, I've fully launched my web site for this effort: taketherisk.run. And, you can follow me on Instagram as I continue to train and race in the coming months.
I want to talk this month about sponsorship. Frankly, I am more committed to the cause I've taken on than the race itself. But in order to make a difference for Children's National Health System and the cause of pediatric mental health, I need sponsors to come on board with significant commitments.
There are many reasons this is an attractive sponsorship opportunity:
Brand Alignment
The World Marathon Challenge is the ultimate global endurance event, comprising huge logistical and physical demands. Once cleared for weather, we will run the first marathon in Novo, Antarctica. On the subsequent days, we will do marathons on each of the other continents, running a total of 183 miles: Cape Town, South Africa (Africa), Perth, (Australia), Dubai, United Arab Emirates (Asia), Lisbon, Spain (Europe), Barranquilla, Colombia (South America) and finishing in Miami, USA (North America). The extreme distances, temperatures, terrains, and travel provide many alignment opportunities for brands that are bold and adventurous.
Brand Exposure
The 2017 World Marathon Challenge gained a great deal of media attention, and I expect the 2018 event (the fourth annual) will gain even more, generating interest among the general public as well as professional and amateur athletes. In addition, through the efforts of KCIC's marketing and public relations firm, I expect to attract attention to my own endeavor —to take on the World Marathon Challenge while raising awareness of Children's National and pediatric mental health. 
Brand Personification
Is your brand about defying limits? Reinvention and self-improvement? Embracing life after 50? I can help you tell those stories. From the sheer audacity of taking on 7 marathons in 7 days on 7 continents to the fact an old codger like me is in the best shape of his life at age 54, I'm an example of someone bucking conventional thinking about what "middle age" looks like.
Corporate Philanthropy
Finally, this is a chance to do real good and to align with one of the nation's leading children's hospitals. Embracing me and the race is one thing, but to also support such a tremendous institution and their young patients affected by mental health issues is, by association, a chance to strengthen your corporate brand. 
The best kind of corporate philanthropy melds corporate best interest with actually doing the right thing. Sponsoring this effort can satisfy that corporate philanthropy sweet spot. There are five sponsorship levels — each offering different opportunities for brand exposure. Everything is explained is this Sponsor Kit. I hope you will join my journey.
Read Jonathan's previous posts about the World Marathon Challenge:
- What's In Store for Me in 11 Months