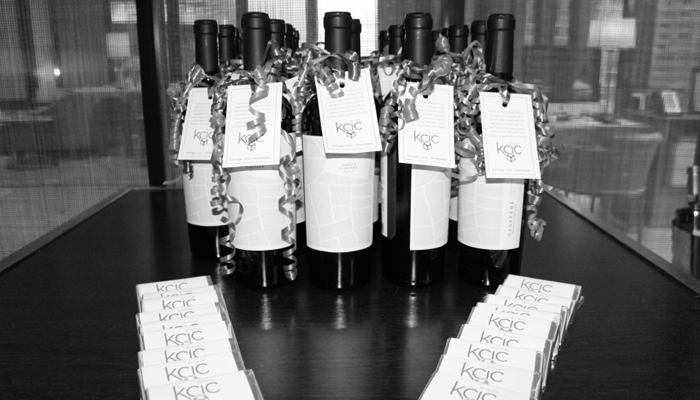 Earlier this fall, KCIC hosted a reception to celebrate the one-year anniversary of the opening of our Chicago office in September 2016. Held at Travelle Kitchen and Bar in The Langham Chicago Hotel, the event featured spectacular views of the Chicago River along with scrumptious food and specialty drinks.
Most of all, we were delighted to have so many current and prospective clients join us, in addition to KCIC alumni and friends in the Chicago area. One of KCIC's core values is "Partner and Collaborate," which emphasizes our commitment to client service and investment in long-term relationships. This value cannot be achieved without the strong, trusting and positive relationships we have with our clients. We take great pride in our commitment to them, so it was especially wonderful to see so many show up to support and celebrate with us.
Catching Up with KCIC Alum
Chicago has also been a top destination for KCIC alumni seeking a full-time MBA. We enjoyed catching up with former colleagues who are pursuing degrees at either Booth School of Business at University of Chicago or Kellogg School of Management at Northwestern, and learning how KCIC helped prepare them for such top-ranked programs. KCIC's "Passion for Learning" core value has clearly resonated with them! In addition, we enjoyed reconnecting with other former colleagues who have now settled in the area, and we look forward to continuing to grow the KCIC network as we expand our office footprint.
Why Chicago?
We are often asked why we opened a Chicago office. While we can list many reasons, business opportunity is certainly one. Chicago continues to be one of the biggest markets for corporate law and legal services, hosting countless related conferences each year. In the past year alone, we've attended the FETTI Annual Conference, the Executive Club of Chicago event on Pharma Innovation, and the ACCEC Annual Conference, which have enabled us to expand our network and get more involved in the life sciences industry. 
As stated in a previous post, another reason for opening the Chicago office last year was to better serve our clients in the Midwest. Being closer to these clients makes it easier to have more in-person meetings. While advancements in technology have allowed for successful video conferencing, it isn't the same as meeting face-to-face. With our recently renovated office space in the Crain Communications Building, we look forward to facilitating even more in-person meetings in the coming months.
Thank you for being a part of our success in Chicago this past year — we look forward to continuing our thriving partnership for years to come. We are also very excited to develop new collaborative relationships in 2018!