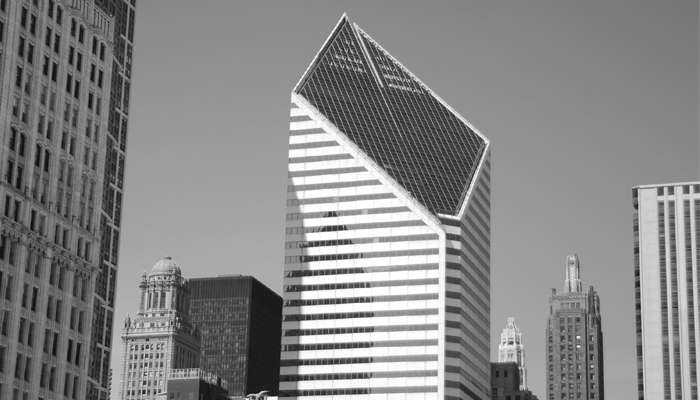 It's been a little over six months since KCIC opened a Chicago office. In that period, the Cubs won their first World Series Championship in 108 years, there was no snow accumulation in January or February for the first time in 145 years, the Blackhawks finished the regular season with the second-most points in the team's 90-year team history, the Northwestern men's basketball team advanced to the NCAA basketball tournament for the first time in school history, and the Bears played the Packers at Soldier Field in the team's fifth coldest game in its 97-year history. Is this a coincidence, or should the city be thanking KCIC for bringing good luck? (Sorry, Chicago, there's actually no one who can help the Bears.)
Our office is located in the Crain Communications Building along the Magnificent Mile. The view could be worse!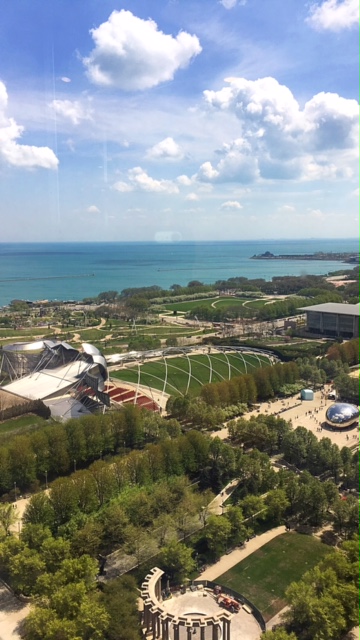 One of the biggest differences from the D.C. office is the level of street noise that we can hear from our office on the eighth floor. Whether it's cars honking, ambulance sirens, firetrucks or bicyclists shouting at taxis, there's never a quiet moment in the Loop. We are also fortunate (although sometimes unfortunate) to have a musical performance on the corner of Randolph Street and Michigan Avenue almost every afternoon. We've heard it all: two- and five-piece bands, bucket drummers, acapella groups, keyboardists, guitarists, and my personal favorite, the xylophonist. Who knew that "Piano Man" or "Hotel California" could sound so good coming from a xylophone! Believe it or not though, we still manage to get some work done.
Coming from a 60-person office in D.C. to a three-person office in Chicago also presented us with a challenge: how to generate office energy? With 60 people in an office, there's always something going on that creates a buzz. However, with only three people and sometimes even fewer, we individually must come ready each day to provide that positive energy and excitement. Some days are tougher than others, but lucky for me, my colleagues Patrick Madl and Jacob Barnaby have a natural aura of positivity and enthusiasm that has helped us establish a very healthy and energetic office. Trust has also been essential to our early successes in a satellite location. Often, I'm traveling for work and not at the office, but I know that the team will get their work done and maintain the values of our firm. While it sounds simple enough, I've seen plenty of people in the past take advantage of their situations. Thankfully, it's one thing we don't have to worry about in Chicago. We also plan to add a few of our colleagues from D.C. over the upcoming months. While the bar has been set high, I'm fully confident and excited that our new additions will rise to the challenge!
Advancements in technology have played a vital role in our communications and to maintain relationships with our colleagues in the D.C. office. Between various forms of screen sharing and video conferencing, the power of technology has allowed us to feel as if we're in the same room as our D.C. colleagues during meetings and conversations. It's truly remarkable to me to have webcams automatically focus in on an individual speaking! Certainly there are things you miss when you're not physically in the same room. You can't read body language as well, or spontaneously look at a physical document, but for being hundreds of miles apart, it's quite impressive. This has been a great experience for both offices — to have more of these types of conversations that require clear and concise explanations. We are enjoying learning how to navigate this communication for the benefit of both our offices, and our firm's overall business operations.
One of the main reasons for the expansion was to better serve our clients based in the Midwest. Being closer has facilitated more in-person meetings and opportunities for business development. Members of our management team have been frequent visitors to the office and have helped introduce us to their contacts, which has been incredibly valuable. If we haven't introduced ourselves in person to any Chicagoland locals, please let me know! Overall, I'm proud to say we are off to a strong start and look forward to the future.
We are excited to host an event this summer to debut the office. More details will follow in the coming weeks.