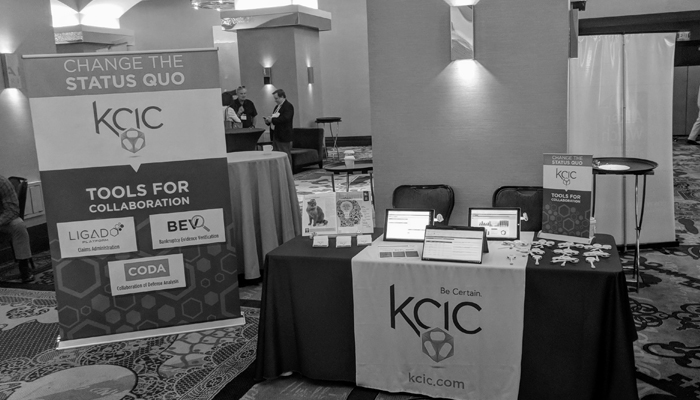 This year's DRI Asbestos Medicine conference in Las Vegas was one of the best KCIC has attended.
Five of my colleagues and I were there to talk about changing the status quo in the asbestos litigation game. Through discussions with current clients and people we were meeting for the first time, we found that many defense counsel and underlying defendants alike are looking for ways to "level the playing field," relative to the plaintiffs' bar.
 Our three Tools for Collaboration do just that:
Ligado: Claims Administration & Billing
BEV: Bankruptcy Evidence Verification
CODA: Collaboration of Defense Analysis
Talking about BEV was especially timely. With announcement of the bankruptcy filing of Georgia Pacific affiliate Bestwall LLC on November 2, 2017, the topic was top of mind. We were delighted to show how KCIC has created a magic bullet that enables defense counsel to search bankruptcy trusts quickly and easily. BEV also makes it possible for defendant companies to identify trusts through which plaintiffs may have a possible claim. This streamlined approach to a previously manual and lengthy process is just one way KCIC hopes to improve the experience of many in the defense bar. Read our new case study about how BEV helped one counsel build a case of alternative exposure.
KCIC attends the DRI conference not only to spend time with people who are looking for better ways to manage asbestos litigation, but also to stay on top of current issues. Watch for future blog posts from my colleagues on some of the great content discussed!