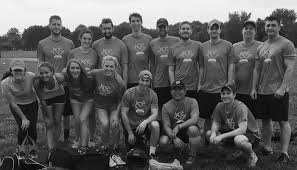 Every summer, a group of KCIC employees spends Thursday evenings in West Potomac Park playing slow-pitch softball adjacent to our country's National Mall. The games are well attended by non-playing KCIC peers — a fan base that enjoys relaxing and socializing while occasionally shouting incorrect base path instructions to their colleagues on the field (all in good fun, of course). From summer intern to vice president and everyone in between, fans and players subject themselves to the same D.C. summer heat, and all gladly do so with a smile on their face.
Our team — nicknamed the "Krushers" — has recently been incredibly successful. The past two seasons, we advanced to the city-wide playoff tournament, which is reserved for the top two teams in the league. It took a while to get the season started (it rained exclusively on Thursday afternoons here in D.C. the first three weeks). But once it began, the Krushers came out of the gate with four straight wins. Especially impressive were the rookies on the team. They played exquisite defense and contributed offensively to games; one game had KCIC scoring 21 runs!
Yet, much like the local heat index, the competition steadily rose as the summer season continued. The Krushers dropped a couple tight contests toward the end of the season. Still, we finished with an impressive record of 6-3. Now, much like an NCAA Basketball "bubble" team on the verge of March Madness, we're waiting to see if we will make the tournament again this year. Is our season over, or will the Krushers play softball in August?
Either way, the season can be considered a success. Thank you to all our fans and followers!