Earlier this month, I had the pleasure of speaking on the opening panel entitled "National Trends Driving Asbestos Litigation" at the National Asbestos Litigation Conference put on by Perrin Conferences in San Francisco.  We set the scene by providing an overview of the asbestos litigation over this past year.  I spoke about asbestos filing trends in 2019 as of August 31, while others on the panel discussed 2019 trends in verdicts as well as settlement and defense costs.
For my part, I reported on filings from KCIC's comprehensive database of complaints (read KCIC's 2018 Asbestos Litigation Report: Here). This is a compilation of publicly available lawsuit information from complaints which allows us to report on filing trends year over year.  One of the main highlights so far in 2019 is that we see an increase in filings of about 3% compared to filings from the same time last year.  The uptick is due to increasing mesothelioma and lung cancer filings so far in 2019, which have risen by 4% and 22% respectively, as compared to the same time frame in 2018.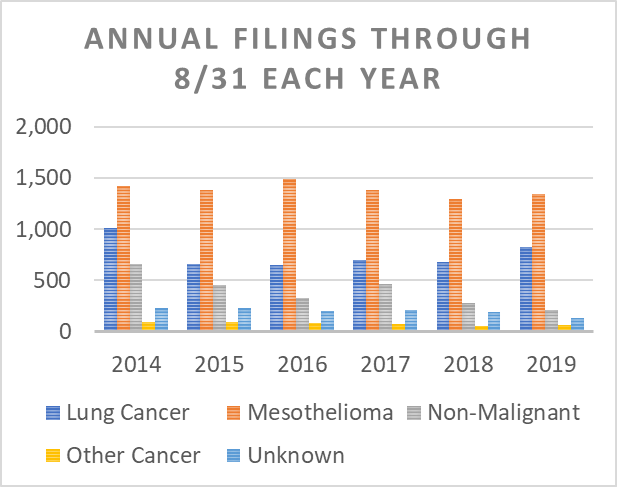 In recent years we have received approximately 60% of the total annual filings by the end of August.  Extrapolating that metric onto the 2019 filing counts as of August, we can then estimate a 5% increase for 2019 filings over the 2018 total at year end.  With that being said, we have seen somewhat of a slow-down in filings since our midyear report. However, we are still on track for an increase for 2019 which would be a new trend in asbestos filings.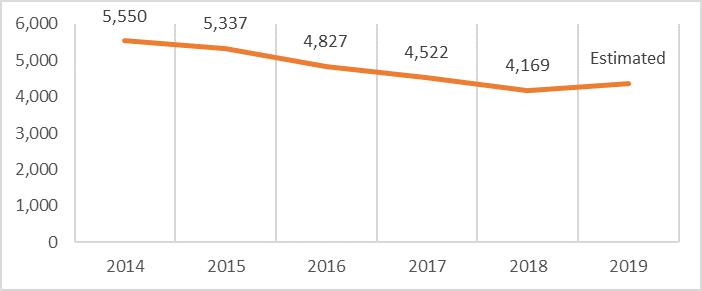 With the filing statistics as a jumping off point, the panel then discussed trends in verdicts and total costs associated with asbestos litigation. Tom Tardy from Maron Marvel Bradley Anderson & Tardy LLC presented statistics that only 1% of cases end up going to verdict. At the same time, his research shows costs to defend and resolve cases have remained stable over the last couple years. With filings, verdicts, and costs associated with this litigation remaining fairly constant, the question repeated throughout the conference was: how do both sides get to "yes" more quickly and cost effectively?
While no definitive solutions were reached, many suggestions were debated, ranging from defense and plaintiffs reaching agreements outside of the litigation process, to changing defense solutions to a one-firm model paid on a fixed annual fee. There were many ideas presented, but it is clear that no one solution will appease all sides. It was great to see everyone try to collaborate and try to find common ground. You can tell everyone wants a better solution, and that is why these conferences are so beneficial. It will be interesting to see if the litigation trends we have seen will continue and further drive conversations like these that suggest change.
If you have additional questions on this topic, or wish to receive KCIC's slides from the conference feel free to reach out to me via email: shockleym@kcic.com.