KCIC Consultant Jazmin Gelbart and Analyst Katherine Arriola also contributed to this post.
As an update to KCIC's Asbestos Litigation: 2018 Year in Review report, we have pulled midyear statistics to take a look at how 2019 asbestos filings are trending.  In this midyear analysis, we compare filings through June 30th each year (received as of July 31st each year to allow for a lag in time between filing and receipt of complaints).
In total, asbestos filings through June 30th are 5% higher than last year.  At this point last year, 1,941 filings had been received for 2018.  Now, we are already seeing over 2,000 complaints for 2019.  While non-malignants/unknown and other cancer cases continue to trend downward, mesothelioma and lung cancer filings are higher than they were at this time last year.  Mesothelioma filings are 5% higher and lung cancer filings have increased by 28%.  We'll take a look at the 2019 filings received so far by jurisdiction and plaintiff firm.

Gori Julian continues to be the top filing plaintiff firm, with a 14% increase in filings compared to this time last year.  Other firms with increases are Simmons Hanly Conroy (31%), SWMW Law (56%) and Karst & Von Oiste (107%).  Meanwhile, the Law Offices of Peter G. Angelos continues its downward trend with a 52% decrease in filings from this time last year.  The overall concentration of filings amongst the top 10 plaintiff firms, however, has decreased from 68% of all filings at this time in 2018, to 64%.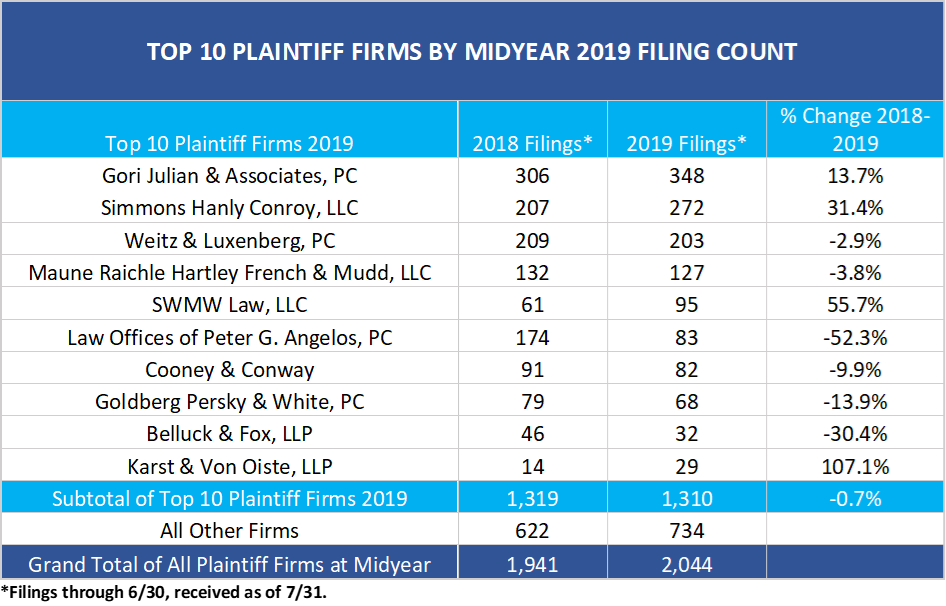 By jurisdiction, again the top venue for asbestos filings continues to be Madison County, IL  So far in 2019 we have seen 582 filings in Madison County, compared to 535 at midyear 2018.  Other Illinois jurisdictions are also above where they were at this point last year – St. Clair County with 202 (vs 155) filings and Cook County with 70 filings (vs 64).  The most notable increase we have seen in the  jurisdictions occurred in Wayne County, MI (118% increase from midyear 2018 from 40 to 87 filings).  Other increases include St. Louis, MO (+75%), and Los Angeles, CA (+41%).  The jurisdiction that has seen the most significant decrease compared to midyear 2018 is Baltimore City, MD with a 47% decrease corresponding to the decrease in filings by Peter Angelos' firm.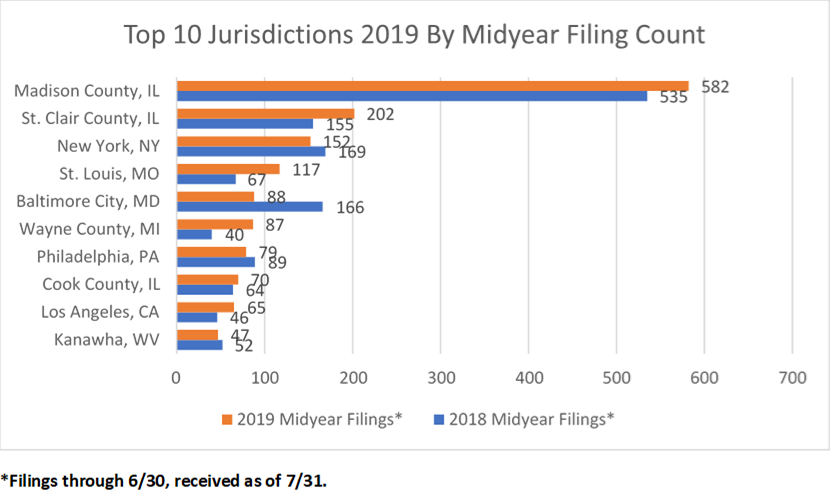 So far in 2019 it seems that the downward trend in filings may be waning, so it will be interesting to see how filings progress over the second half of 2019.  KCIC will continue to monitor these filing trends. If you wish to get more information, I will be presenting more stats at the National Asbestos Litigation Conference Perrin conference in September. Additionally, be the first to get the full 2019 Asbestos Litigation: 2019 Year in Review report this upcoming February by joining our email list at the bottom of the page.