Last month, I had the privilege of speaking on the opening panel of the 15th annual Perrin National Asbestos Conference in Charleston, South Carolina. It is always a meaningful event, not only to reconnect with friends and colleagues, but also to hear updates and perspectives about current trends in the asbestos litigation across the nation.
For the panel, I was joined by fellow panelists Anthony S. Guardione of Travelers; Laura Kingsley Hong of Tucker Ellis LLP, and Jeffrey B. Simon of Simon Greenstone Panatier. The session moderators were Sara M. Salger of The Gori Law Firm and David G. Arthur of Polsinelli Law Firm. During the session, I presented asbestos filing statistics as of July 31,, 2023, that KCIC compiled and compared to recent trends. In a previous post, my colleague Jazmin Gelbart had shared an in-depth analysis.
In this post — especially for those who were not in attendance at the conference — I want to share an overview of the findings I presented, along with observations from the panel:
Increases in Filings: A Closer Look
Generally, comparing mid-year numbers this year to last year, KCIC has seen a slight increase in overall filings. The increase is driven by increases in mesothelioma filings and lung cancer filings.

As illustrated in the graphs below, 2023 mesothelioma filings were on pace with 2022 until March, when they began to increase, outpacing filings from last year. For lung cancer filings, numbers have been up since the start — every month so far this year.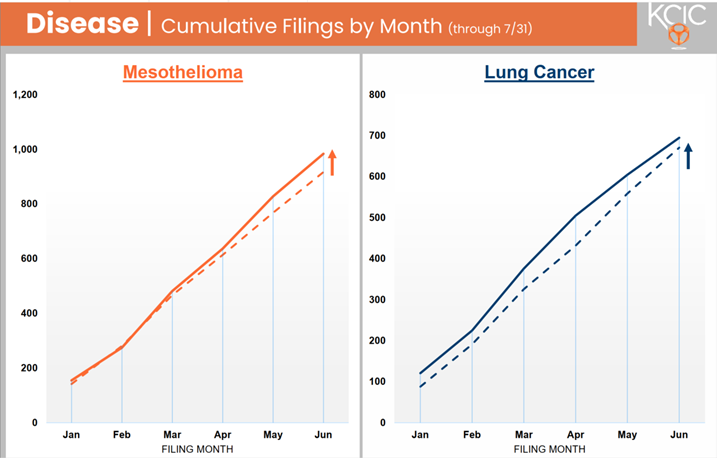 As I presented the data, my fellow panelists commented on what they are seeing "on the ground." For example, in Illinois, there is a different make up of filings in Madison County compared to St. Clair County. In Madison County, mesothelioma claims make up 85% of all filings so far this year. In St. Clair County, 96% of all filings are lung cancer cases. My fellow panelists discussed that specific county rules may be a factor contributing to the differences. In Madison County, lung cancer cases aren't set for trial for 36 months; that rule does not exist in St. Clair County.
The end of the presentation turned to a discussion of recent verdicts, especially large verdicts coming out of states such as California, New York and Illinois. Panelists discussed how the upward trend of verdict amounts could be attributed to generational shifts in the courtroom, among both jurors and corporate representatives. Current jurors generally did not grow up with asbestos, and corporate representatives are not the long-tenured employees who worked up the ranks of a defendant company — increasingly they are younger and never worked with asbestos. These demographic changes are another aspect that can make it risky for a defendant to go to trial. As a result, settlement demands have increased. 
Although asbestos litigation has been going on for decades, the seemingly continuous stream of mesothelioma- and lung cancer-related lawsuits and the generational shifts seen in the courtroom have increased risk for corporations as they try to wade through the litigation strategically.

KCIC will continue to mine and report on the data to bring forth helpful insights.