Through the litigation management services that KCIC offers, we estimate to have data for at least 90% of nationwide asbestos filings, which allows us to publish our annual Asbestos Year in Review report each spring.
Now that we are past the midpoint of this year, it is time to look at what we're seeing so far in 2023. As we account for a one-month lag, on average, between filing and KCIC's receipt of a complaint, the data in this post includes complaints received by KCIC through July 31. Below, we'll get into some detail on disease trends, jurisdiction and plaintiff firm trends, and talc filings.
Overall Filings
When comparing filings received as of July 31 each year, we see in Figure 1 that 2023 is up by 2% compared to 2022 (1,922 filings in 2022 and 1,963 filings in 2023). Interestingly, there has been a pattern of filings decreasing in alternating years, and filings either increasing or remaining fairly static in the opposite years. We observe that 2023 is continuing that trend with a slight increase in filings, while 2022 had a decrease.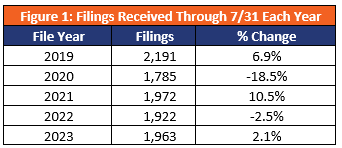 By Disease
Figure 2 depicts mid-year filings from 2019-2023 by disease. We had been seeing a decrease in mesothelioma filings in 2020 and 2021 (when comparing both mid-year and full year filings). Then, 2022 was the first year in three years where we saw an increase in mesothelioma filings. So far, 2023 appears to be following the same trend, with mesothelioma filings 8% higher than they were at this time last year. At this point in the year, mesothelioma cases comprise 54% of total 2023 filings compared to 51% at this time last year.
Next, we looked at lung cancer filings. They were up by 24% when comparing mid-year 2021 to mid-year 2020, then filings dropped in 2022 by 15%. In 2023, lung cancer filings are up 8% compared to 2022. Lung cancer filings make up 37% of total 2023 filings so far compared to 35% at this point last year.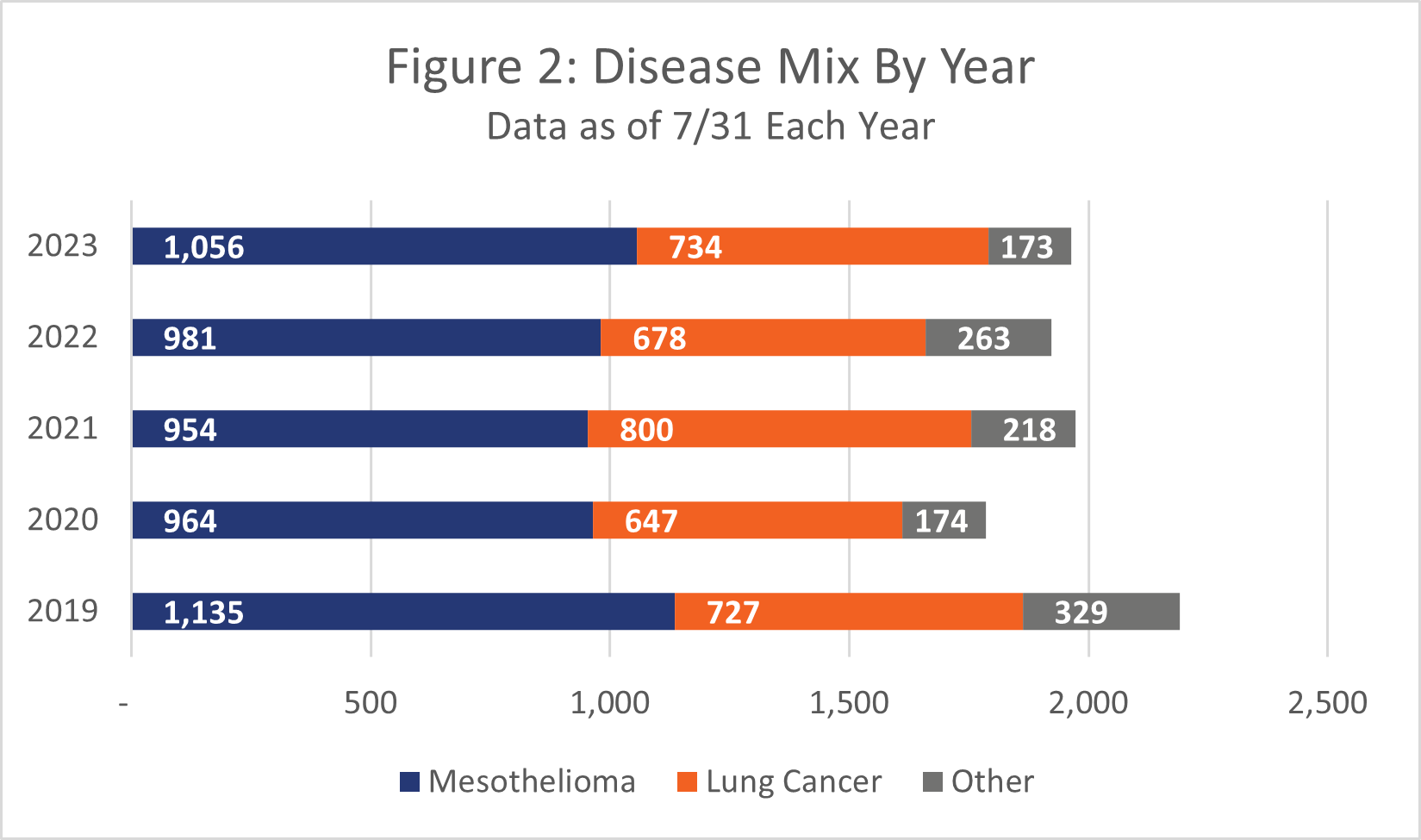 Due to the concentration of both mesothelioma and lung cancer cases increasing, other cancer, non-malignant and unknown disease cases have decreased their concentration of total filings by 5% (from 14% to 9%) compared to this time last year. Total filings have decreased for each of these diseases individually as well, for a combined 34% decrease in filings.
By Jurisdiction
Figure 3 contains the top 10 filing jurisdictions so far for 2023, along with their 2021-2023 filings through July 31 of each year. Compared to mid-year 2022, the top three jurisdictions remain the same for this year. Filings in the top 10 jurisdictions combined increased by 2% compared to this time last year, which is in line with the overall 2% increase in national filings.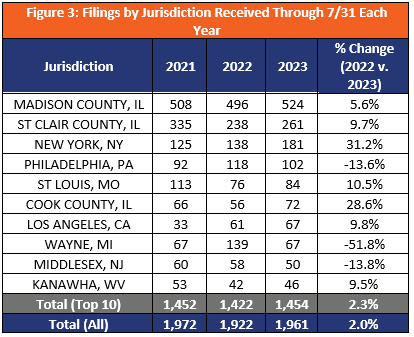 The largest increase in filings has been in New York, where there has been a 31% rise— 43 additional filings this year compared to mid-year 2022. Those were largely due to Weitz & Luxenberg increasing its filings in New York by 8%, Meirowitz & Wasserberg by 58%, and Simon Greenstone tripling their filings there from 7 to 21. Starting in March of last year, Simon Greenstone increased its filings in New York considerably compared to previous years, and this trend appears to be continuing.
The most considerable decrease in filings from last year so far has been in Wayne County, Michigan. This is mostly caused by Mazur & Kittel decreasing its filings there by 76% — 68 fewer filings. Over the last five years (including 2023), Mazur & Kittel's mid-year filings in Wayne County have been between 13 and 22 — except for 2022, when the firm filed 90 claims. In 2023, the firm's filings appear to be dropping closer to what they were in 2021 and earlier.
By Plaintiff Firm
Figure 4 includes the top 10 plaintiff firms for 2023 filings so far, along with 2021-2023 filing numbers for these firms as of July 31 each year. When analyzing plaintiff firms, KCIC uses the national plaintiff firm from the complaint; if the national firm is not available, then the local plaintiff firm is used. Overall, filings by the top 10 plaintiff firms combined have increased by 8% compared to mid-year 2022. The top five plaintiff firms are the same between mid-year 2022 and mid-year 2023, in the same order.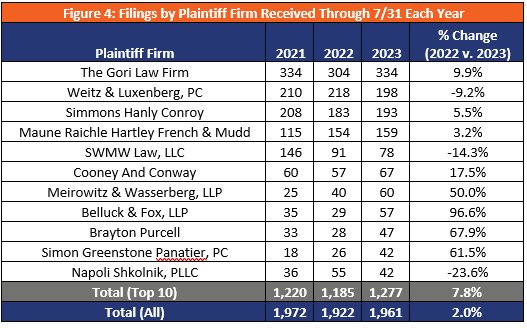 Belluck & Fox had the largest percentage increase in filings from mid-year 2022 to 2023. The firm increased its filings by 97%, or 28 additional filings. The increase wasn't concentrated in specific jurisdictions, but the filings tended to be mostly in the state of New York. The Gori Law Firm had the largest nominal increase—30 filings (10%), mostly because the firm filed more cases in Madison County, Illinois and St. Louis, Missouri.
Weitz & Luxenberg had the largest nominal decrease in filings compared to this time last year: 20 filings. The firm decreased its filings in New Castle, Delaware and Suffolk, New York, while increasing their filings in New York, New York and Philadelphia, Pennsylvania.
Talc Filings
Finally, we wanted to provide a brief update on talc filings. Figure 5[1] below visually depicts annual talc filings received by KCIC as of July 31 of each year. We see that 2023 is the second year in a row with a considerable increase in talc filings at the mid-year point. There has been a 21% increase, from 209 to 252 filings, from 2022 to 2023. So far, there have been large increases in talc filings in Madison County, Illinois (35%, 16 filings) and New York, New York (63%, 12 filings). Maune Raichle and Simon Greenstone have, respectively, filed 19 (48% increase) and 17 (71% increase) more talc lawsuits compared to last year.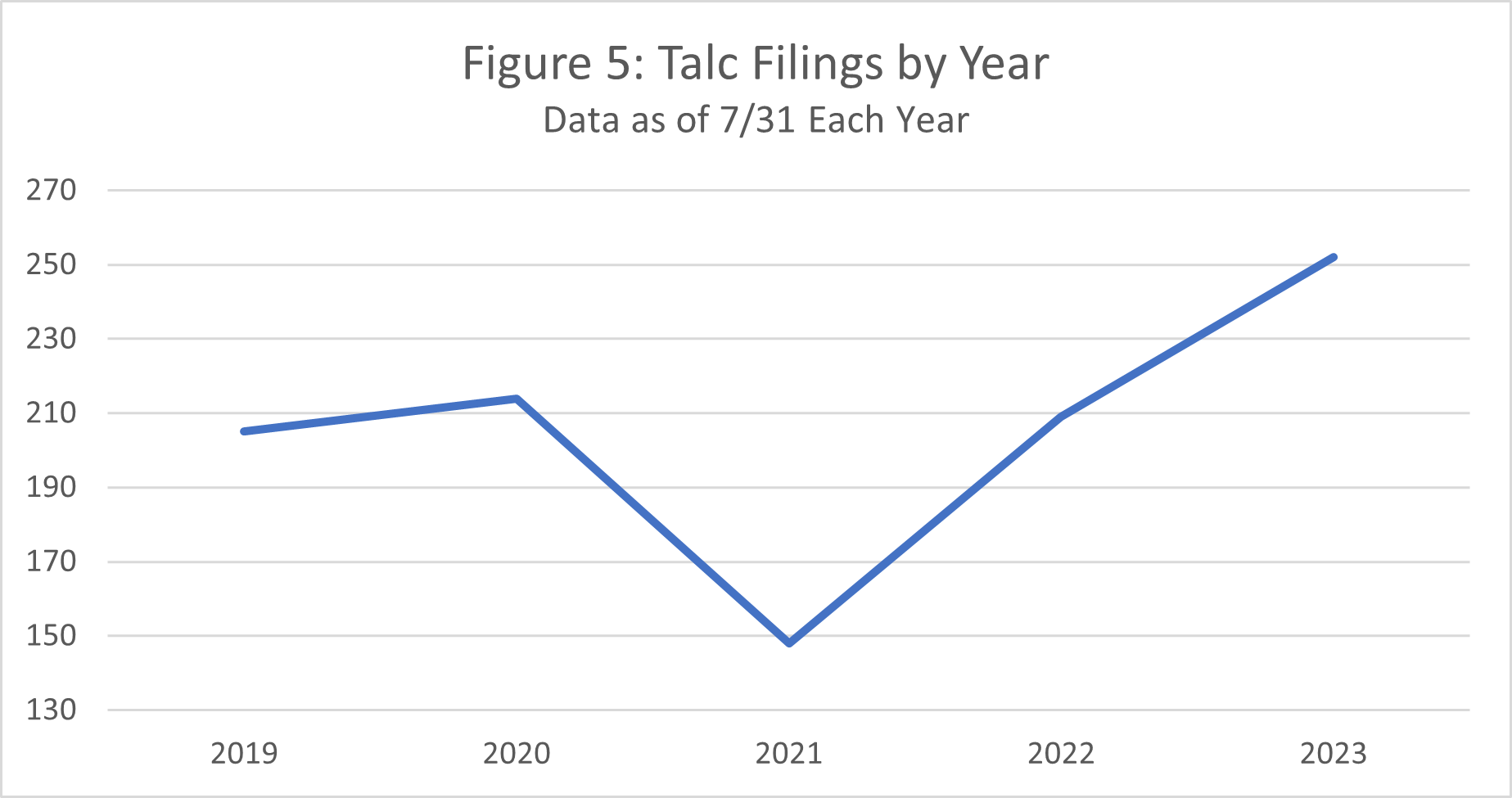 Looking Ahead
On average, KCIC receives 50-51% of total filings for the year by July 31. Using this logic, 2023 is on track to have between a 5% and 6% increase in filings compared to 2022. Looking forward to our 2023 annual asbestos litigation report, it will be interesting to revisit many of the trends that we're seeing now, halfway through the year. Will mesothelioma and lung cancer filings continue to increase while all other diseases decrease? Will New York filings continue to increase while Wayne County filings decrease? Will talc filings continue to increase?
Only time will tell if these trends will be consistent through the end of the year. We look forward to publishing the results next spring.
[1] KCIC does not claim to have the full population of talc claims. While we believe to have most mixed exposure talc cases (which include talc exposure as well as other traditional asbestos exposures), we do not have the full population of cosmetic talc cases. We believe we do have many of the mesothelioma cosmetic talc cases.