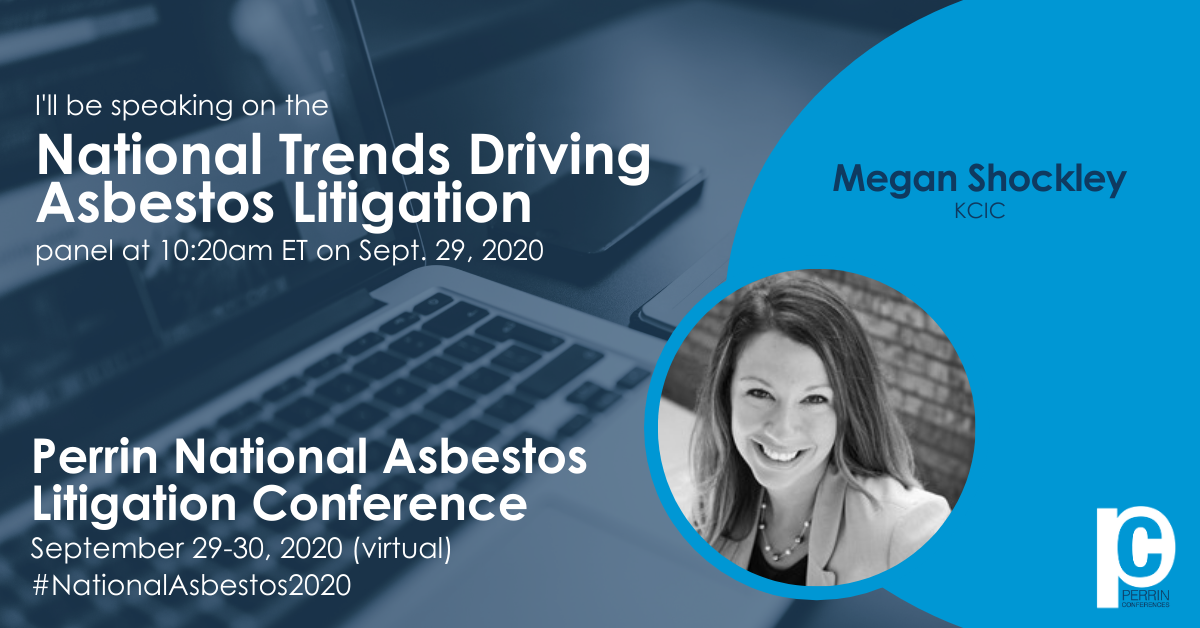 I am looking forward to attending Perrin's Virtual National Asbestos Litigation Conference next week, September 29-30. I am thrilled to be speaking on the "National Trends Driving Asbestos Litigation" panel at 10:20 on Tuesday morning.
The session is the first to take place during the two-day event and will set the tone for some of the issues to be discussed during the conference. As part of the panel, I will be sharing KCIC's latest data and analysis regarding asbestos litigation in the U.S., which includes 2020 data received through August 31, 2020 from KCIC's comprehensive database of national asbestos complaints. Over the past several years I have enjoyed delving into our data and sharing our filings in KCIC's annual Asbestos Litigation Report, as well as in related webinars and blog posts.
With data received through August 31, I plan to present:
A comparison of 2020 filings to filings as of August 31 in prior years
Filing statistics and comparisons by disease, jurisdiction, plaintiff firm
An in-depth analysis of mesothelioma and lung cancer filing trends
The timing of this conference is just right to give a view of how 2020 filings are shaping up during COVID-19 times, and in advance of our "Asbestos Litigation: 2020 Year in Review" report that KCIC plans to publish in early 2021. I look forward to participating in the conference and am excited that Perrin has taken this year's conference to a virtual setting. Let us know if we will (virtually) see you there!
To learn more about the conference, and to register, visit perrinconferences.com.