KCIC Consultant Julia Grehan also contributed to this post.

Now that we are past the midpoint of 2020, we have taken another look at how asbestos filings this year are trending compared with previous years.  As always, we waited until the end of July to report on filings through June 2020, because we generally see a month lag between when a complaint is filed and when it is received by KCIC. 
We began by updating the 
analysis
 performed at the end of Q1 to look at cumulative 2020 filings by week through June 30 and compared that to what we saw in the first 26 weeks of 2018 and 2019.  As of the end of July, we have received 1,688 lawsuits filed in the first two quarters of 2020, down nearly 17% from this time last year and down 12% from the first two quarters in 2018.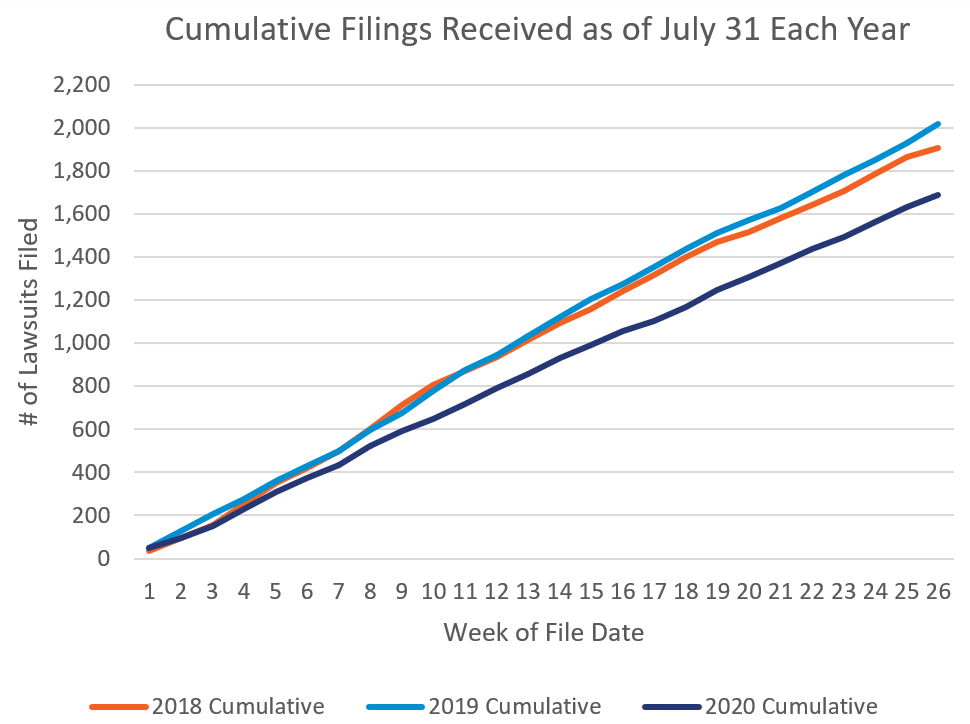 When we looked at filings as of the end of Q1 earlier this year, 2020 filings were 13% lower than at the same time in 2019, meaning that the decrease has not just continued, but the differential has become greater. In fact, the average percent change in filings between 2020 and 2019 was 15% for Q1. For Q2, the average percent change between 2020 and 2019 was 17%. It is likely that this decrease is due to the continued effects of courts closing due to COVID-19, though the decrease in filings in COVID-19 "hot spots" are not consistent. In this blog post, we will dig more into the trends of asbestos filings that we are seeing so far in 2020.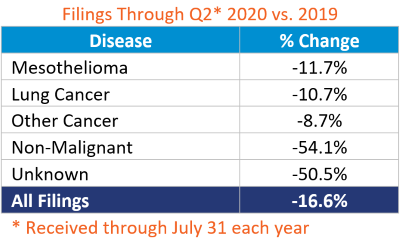 Filings through Q2 in 2020 are lower than what we had received by this time last year for every disease type. Non-malignant filings saw the largest percentage decrease (54%), due to significant decreases in Baltimore City, MD and Wayne County, MI. Mesothelioma and lung cancer, which make up 90% of total 2020 filings to date, also decreased by 12% and 11% respectively compared to the same time in 2019. For mesothelioma filings, large percentage decreases in top locations like Madison County, Los Angeles, Cook, St. Louis, and Middlesex were somewhat offset by increases in New York, Orleans, Wayne County, Alameda, and Richland. Similarly, for lung cancer filings, large decreases in places like St. Clair, St. Louis, Wayne County, Kanawha, and Baltimore City were somewhat countered by the increases in Madison County, New York, Philadelphia, and New Castle compared to this time last year.
We also looked at the filings through Q2 2020 by jurisdiction and plaintiff firm compared to the numbers through Q2 2019. Most of the top jurisdictions have thus far seen a decrease in 2020 filings compared to 2019.  Madison County, IL, the top location for asbestos filings, decreased 6% compared to this time in 2019, but its percentage share of all filings increased from 28% at the end of Q2 2019 to 32% now.  Baltimore City, MD, had the largest decrease of the top 15 jurisdictions, as The Law Offices of Peter G. Angelos has continued the significant decrease in filings that we saw last year. While many other top jurisdictions saw decreases in excess of the overall 17% decrease in total filings, some jurisdictions have seen increases so far in 2020. New York, Philadelphia, New Castle, Alameda, and San Francisco are all seeing an increase in filings.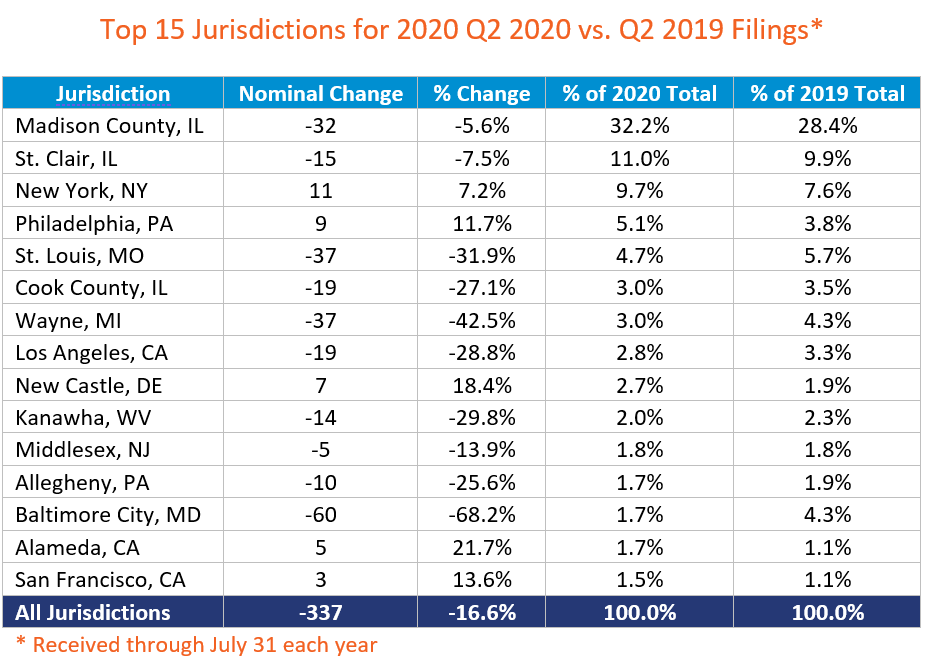 Not surprisingly, many of the filing trends we see when comparing filings by plaintiff firm through Q2 2020 to filings through Q2 2019 correspond to the trends we see by jurisdiction. Again, many of the top filing firms have fewer filings compared to this time last year.  The Gori Law Firm and Simmons Hanly Conroy, consistently the top filing firms in this litigation, have both seen a decrease in filings compared to this time last year of 23% and 11% respectively. While most of the firms seeing a percentage increase in filings have a relatively low nominal change, Napoli Shkolnik has seen both a significant percentage increase (up 192%) and nominal change (50 more filings) compared to this time last year – mostly in Madison County, but also contributing to the increase in filings seen in New Castle, DE. Not in the top 15 filing plaintiff firms, but still notable for significant increases are Dean Omar Branham Shirley, which increased its filings from 7 through Q2 2019 to 12 through Q2 2020, a 71% change (mostly in Richland, SC) and Kazan McClain Satterley & Greenwood, which increased its filings from 3 through Q2 2019 to 11 through the end of Q2 2020, an extremely large percent change of 267% (mostly in Alameda, CA). Both firms are known for bringing cases that reach high verdicts, so these increases could have a significant impact.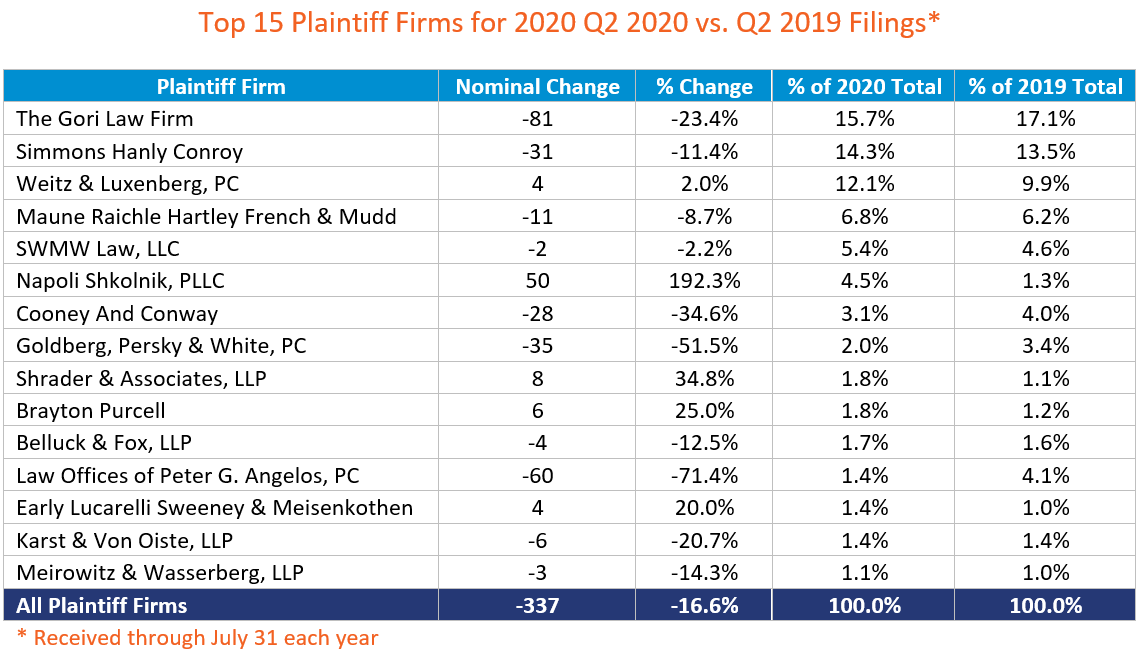 It remains to be seen how the second half of 2020 will go in terms of asbestos filings. While some courts are starting to open back up, many COVID-19 related restrictions remain in place, and likely will until there is a vaccine. We will continue to analyze the data as it comes in and will be posting updates throughout the rest of the year.