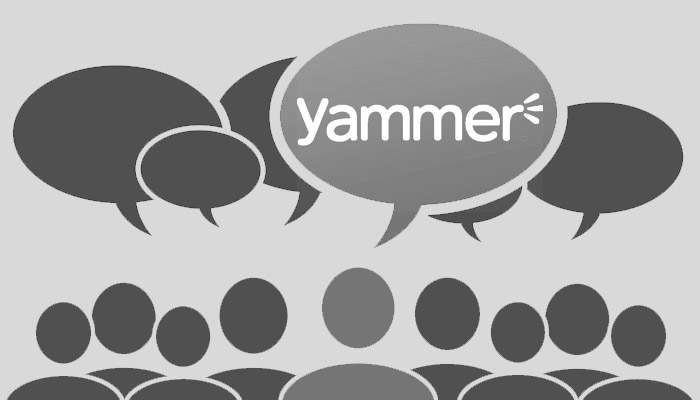 This post is authored by KCIC Database Administrator, Christopher Young.
In our work, we encourage our clients to review their internal process and look for ways to be more efficient and effective. Likewise, with our own company, we are always seeking out ways to work smarter — that includes finding tools and solutions to improve and facilitate our internal communications.
For example, we recently made the decision to utilize Microsoft's Yammer as a company intranet — essentially a social network for sharing company information, announcements and feedback. Yammer gives everyone at KCIC a place to voice their thoughts on current and future projects and initiatives, as well as an established platform from which they can make announcements to the full company.
Here are some things we have had to consider along the way:
Defining Teams and Groups
Alongside the option to post general company-wide notifications, we have created a series of Yammer groups for our myriad administrative and client teams — to facilitate communication both within those teams and out to the company as a whole.
It has been interesting to see how quickly we've come to rely on groups such as Administrative, Technology and Training. They communicate day-to-day events as well as future developments in those departments. There are also groups representing each of KCIC's three service rails:Consulting, Platform-Related Solutions, and Custom Solutions. We even have groups for our social and softball teams and those who share special interests — like our "Foodies" group, which shares tips on where to find superior D.C. dining experiences.
Praise, Feedback and Polls
Yammer also gives us a way to recognize team members, as well as get important feedback. Now we can easily commend team members on an impressive achievement or performance, as well as provide positive feedback that is visible to the whole company.
Speaking of feedback, Yammer also provides a clear way to provide constructive feedback. We've found it has had a material impact on the way we format and conduct employee training. Posting about all upcoming training sessions, and again afterward to debrief, creates a forum for people to request certain content be covered or comment on the format or complexity of the session.
Finally, the built-in polls in Yammer allow us to quickly and clearly aggregate preferences and opinions across the company. We use these poll results as an active factor in how we plan for the company's future.
The Yammer Effect
Rather than let notable company-wide emails get lost in crowded inboxes, we now have a clear, established repository for documenting and sharing pertinent information to which all of our team members should be privy. Corporate announcements and decisions now have a tangibility and level of documentation that simply didn't exist, and we've opened many new avenues of communication within the company.
As an added bonus, Yammer allows new KCIC employees an opportunity to take a look back at our history, recent developments and company events.
As KCIC grows, it's important we stay connected; we never want to lose our small-company feel. Technology like Yammer helps us stay true to our "Partner and Collaborate" core value, and I'm sure we'll continue to find new ways to maximize it for our team.