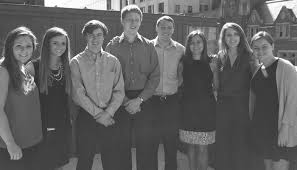 KCIC is proud to announce the arrival of our Class of 2015 new hires! Last spring, we shared how our undergraduate recruiting program is vital to maintaining our firm's high-energy, high-performance, collaborative environment.
Now, we are happy to introduce our newest Consultants — eight recent graduates of these top institutions: the University of Virginia, George Washington University, and the University of Richmond.
This latest crop of recruits is a diverse bunch. As students, they majored in Business, Economics, Systems Engineering, and even Music; they also bring a wide variety of specialty minors in Spanish, French Literature and Asian Studies.
At the start of their first week, we asked our new team members some questions in an attempt to get to know them better. They're a group that can be described as many things, including adventurous, rambunctious and athletic (a good add for our summer softball team). Asked what career path they'd envisioned for themselves as they entered college, many thought they would become doctors, veterinarians or physical therapists — not many thought they would be consultants in a business environment, but we're glad they ended up on that path.
On their fourth day at KCIC, I asked how they had felt as they arrived on their first day. I learned they were collectively excited, nervous and hopeful — and all looking forward to adding more value as they move along the learning curve and are able to contribute more to their client teams.
Please join us in welcoming …
Emily Archibald
College: University of Richmond
Major: Economics
Asha Bazil
College: George Washington University
Major: Economics and International Affairs; minor in French Literature
Paige Hagopian
College: University of Richmond
Major: Business Administration; minor in Spanish
Thomas Hutson
College: University of Virginia
Majors: Systems Engineering, Economics
Sheila Klauck
College: University of Virginia
Major: Commerce; minor in Asian Studies
Kristopher Monson
College: University of Virginia
Majors: Systems Engineering, Music
Paul Van Pernis
College: University of Virginia
Majors: Systems and Information Engineering, Economics
Kelley Wentling
College: University of Richmond
Major: Business Administration