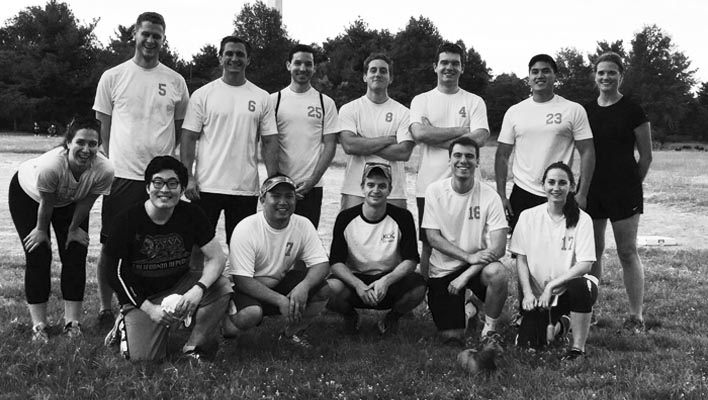 Since KCIC's early days, we've assembled a softball team that spends Thursday evenings playing in the West Potomac Park Coed Slow Pitch League, under the shadow of the Jefferson and Washington monuments. Competing in the league gives KCIC employees a great opportunity to strengthen an already tight-knit office community, get some exercise, and show our competitive spirit.
This year, our "KCIC Krushers" are off to an impressive start. At the season's midpoint, the team is undefeated with a 5-0 record and tied for first place!
Winning hasn't come easy. There have been several rainouts, and games have been very close — often decided by incredible defensive catches by Graceann Pike or timely hitting by Rachel Donze, both KCIC Consultants. The team has great support from all areas of the company, from Developers to Analysts, and First-year Consultants to Managers. The KCIC Krushers are led by Senior Consultants,Trevor Cornell and Jacob Barnaby.
With five games left in the season, we hope to build on our early success and make the playoffs for the second consecutive year. We'll keep you posted.
Many thanks to all our fans and supporters out there!