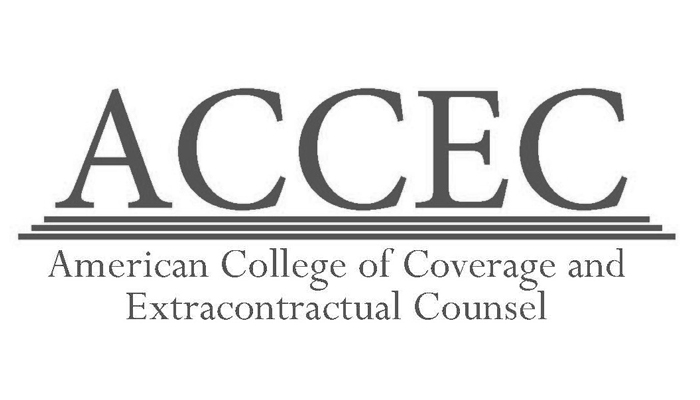 KCIC was honored to again sponsor the annual meeting of the American College of Coverage and Extracontractual Counsel (ACCEC) in Chicago last month. As always, the content and caliber of speakers and attendees was top-notch. The two sessions I attended were about different potential liability areas: "The Cobbler's Children Have No Shoes: What Insurance Coverage Attorneys Need to Know about Their Professional Liability Insurance Policies" and "Keeping Your 'Food Recall' Coverage Fresh".
Professional Liability Policies
The discussion about professional liability policies focused on challenges that lawyers face when it comes to their own insurance — taking steps to be sufficiently covered and knowledgeable about potential coverage issues. The speakers were Laura Hanson of Meagher & Geer; R. Hugh Lumpkin of Ver Ploeg & Lumpkin; Ron Kammer of Hinshaw & Culbertson; and Sherilyn Pastor of McCarter & English.
One of the first challenges with professional liability is answering the question "What is a claim?" For example, if you get a letter from a client demanding a refund of fees because of an adverse outcome in their case, is that a claim that you need to report to your insurance carrier? If the grievance is initially resolved between the parties, but then later escalates, is it considered a failure to provide timely notice — or can a policyholder be penalized for having "prior knowledge" of the event? It's the same dance our clients do: balancing the need to be forthcoming and honest with the need to maximize coverage should a dispute arise later. It is comforting to know that even seasoned coverage attorneys need to be reminded to consider all of the issues and risks in order to make the best decision.
Food Contamination
The food contamination panel featured Suzan Charlton of Covington & Burling; Arthur Garrett of Keller and Heckman; and Julia Molander of Cozen O'Connor. They injected some humor by singing their introduction: "Food, poisonous food …" before discussing nuances and complications inherent in food contamination cases. Food contamination can be especially tricky. One critical question is what a General Liability or First Party Property policy may (or may not) cover, compared to a policy specially written for products contamination. The type of coverage depends on where the contaminated food item is in the production chain, how it relates to the insured's product, and the injury that takes place as a result.
Product contamination coverage, aka recall insurance, is generally triggered when a known or suspected product defect has caused or is reasonably expected to cause bodily injury or physical injury to tangible property other than your product, but the language is not consistent between policies. If your product does not test as "contaminated", you may not have coverage due to an issue in the supply chain. In California, coverage was not allowed for a voluntary recall of meat products containing beef from a slaughterhouse where operations were suspended by the USDA, in part because there was no damage to the insured's product and no injuries were reported. However, some courts have taken a friendlier public policy stance, reasoning that the policy language should not encourage the insured to market its products in order to see whether people get sick. A government order to recall a product does not trigger contamination coverage; the policy language determines when it is triggered.
Fostering Relationships
Part of the mission of the ACCEC is "professional coordination and the improvement of the relationship between and among our diverse members … improving the civility and the quality of the practice of insurance law." One reason that KCIC continues to attend and support ACCEC events is to foster our relationships with insurance coverage attorneys while expanding and deepening our knowledge of current insurance coverage issues. The KCIC core value of partnering and collaborating becomes reality when we take the time to nurture and build those important relationships.