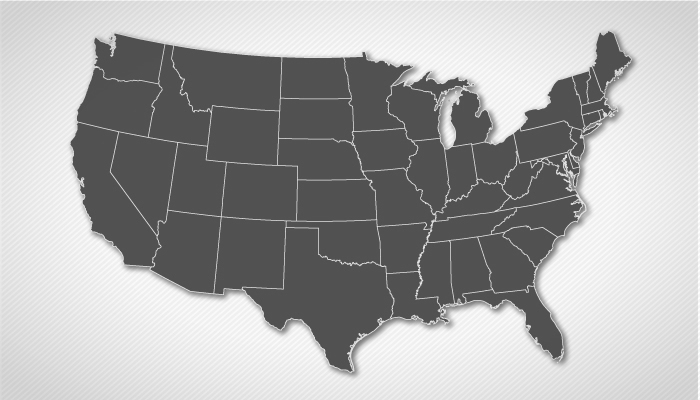 KCIC Vice President Michelle Potter co-authored this blog. 
Earlier this week, I was on the opening panel at Perrin Conferences' Asbestos Litigation Conference in San Francisco. The topic — "National Trends Driving Asbestos Litigation" — provided a perfect opportunity to discuss KCIC's latest analysis from our comprehensive asbestos litigation database. As of Sept. 15, 2017, we have received nearly 3,000 asbestos-related lawsuits filed in 2017.
As we analyze the data, one notable finding is that although we've received claims from over 125 U.S. jurisdictions year to date, 50% are filed in only four jurisdictions. Interestingly, almost 60% are filed by out-of-state residents. These "hot spot" jurisdictions, and several others, are key targets for a plaintiff counsel-driven phenomenon known as "Litigation Tourism".
Personal jurisdiction was a big topic at the Perrin Conference. The issue came up on almost every panel.
This concept is not a new one. KCIC's 2016 asbestos litigation report highlighted several states and cities most affected by this perceived strategy, where plaintiff firms appear to pick and choose the most favorable jurisdictions to file in, despite the state of residence or the place of injury (exposure) of the plaintiff.
What is new to 2017 is the recent U.S. Supreme Court decision, Bristol-Meyers Squibb Co. v. Superior Court of California — a precedent-setting personal jurisdiction decision. In the last six years, the Supreme Court has heard five cases focused around personal jurisdiction. Each has further limited where a defendant can have lawsuits filed against them, citing the Constitution's Fourteenth Amendment which "limits the power of a state court to render a valid personal judgment against a non-resident defendant". The Bristol-Meyers Squibb verdict explicitly defines the cases in which a non-resident plaintiff can sue a defendant in a given state:
A defendant can be sued by non-residents in the state the company is headquartered or incorporated in;
Or a state that the non-resident was injured in.
The Bristol-Meyers Squibb decision is particularly impactful, since it specifically rules that a non-resident filing not adhering to the above standards — regardless of a defendant company's corporate footprint in the jurisdiction — violates the due process clause.
At Perrin, a few items seemed to emerge from the conversations around personal jurisdiction:
St. Louis, Missouri
A popular spot for asbestos filings and more recently talc cases, St. Louis has seen its share of large plaintiff verdicts. In general, the plaintiff neither lived nor was exposed in Missouri, and the defendant is not at "home" there. Two days after the Bristol-Meyers Squibb decision, a judge in St. Louis declared a mistrial of a current talc-related case, citing personal jurisdiction. It remains to be seen if this decision will impact the plaintiff verdicts currently on appeal in St Louis. There seems to be preliminary data suggesting asbestos filings may be impacted by the decision. According to the filing data we have received through Sept. 15, 2017, Missouri has seen more than a 20% decrease in filings this year compared to last year at this time. 
Madison County, Illinois
Madison County continues to be the jurisdiction receiving most of the asbestos filings nationwide. For years, Madison County alone has seen about 50% of all mesothelioma claims filed in the country. A vast majority are brought by people who do not live and were not exposed in the state. The discussion at the conference regarding Madison County was pretty consistent and centered on the notion that defendants know Madison County and what to expect if they get sued there. As a result, they may elect not to disrupt the apple cart, so to speak, by citing personal jurisdiction.  They would prefer the devil they know (Madison County) instead of the devil they don't know (the jurisdiction where the claimant may refile if the personal jurisdiction motion is granted). So, there is definitely a cost/benefit analysis that would need to be done to determine if pushing the motion of personal jurisdiction is beneficial to the individual defendant. 
Within the past week, the Illinois Supreme Court issued a ruling in favor of the defendant on the issue of personal jurisdiction. Given this decision took place in the most popular state for asbestos filings, it will be interesting to see what impact, if any, it has on plaintiff counsel's behavior. Will we see changes in where lawsuits are filed? Will we see changes in what defendants are named on the complaints? Will we start to see the same plaintiff file lawsuits in different states naming different companies, or will the trend move toward filing claims where the plaintiff lives?
All are questions that KCIC will continue to follow and report on.