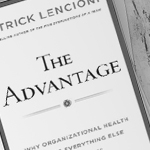 As I discussed in my last post, our company made a commitment in 2015 to achieve organizational health.
Our guiding light was the book "The Advantage" by Patrick Lencioni, which I cannot recommend highly enough. Lencioni writes that an organization has integrity, and therefore health, when it is "whole, consistent, and complete, that is, when its management, operations, strategy, and culture fit together and make sense."
Signs that indicate organizational health are: minimal politics and confusion, high morale and productivity, and low turnover among good employees.
What business leader doesn't want to achieve all that?
To become healthy, an organization must be willing to engage in a process that answers such foundational questions as: "Why do we exist?"; "How do we behave?"; "What do we do?"; "How will we succeed?"; and "What is most important right now?".
Sound easy? It's not. The goal is to create unifying clarity, which means your entire leadership team must be involved in answering and totally aligning behind the answers.
But we dug in and tackled each of the questions. Ultimately, the answers now comprise our new KCIC Playbook — the filter through which we evaluate nearly every business decision and activity:
Why do we exist?
KCIC's core purpose is to create an environment in which our employees can thrive while solving problems for our clients in a transformational way.
How do we behave?
We are guided by KCIC's Core Values, which lie at the heart of our company's identity:
Partner and Collaborate – We are deeply committed to client service and enjoy investing in long-term relationships with both our clients and members of our company.  As project teams, we engage with our clients in co-creation and joint problem solving rather than simply executing instructions.
We Find a Way – We have the persistence, perseverance and creativity needed to find solutions to problems, and embrace the challenges we find along the way.
Passion for Learning – We encourage an enthusiasm and energy for improving every aspect of what we do and how we do it.
Achievement with Flexibility – We are demanding of ourselves as individuals and as an organization.  We achieve our goals with a seriousness of purpose balanced with humor and a sense of humility.  We strive to balance this with valuing our employees as members of families and members of communities.
What do we do?
We are a consulting firm that helps companies manage their product liabilities.
How will we succeed?
We do our best work when we partner with our clients to combine leading-edge technology and consulting expertise to create innovative solutions.
The answer to the last question ("What is most important right now?") can vary from year to year, quarter to quarter … any given amount of time. But it must identify only a single area of focus – the top priority. That's it. No other priorities get listed.
Final Thoughts
I must say, it has been quite liberating to be clear, to have those crisp answers, and to recognize and own them as being truly ours. Repeatedly communicated and reinforced within our organization, our Playbook is a daily reminder of who we are.