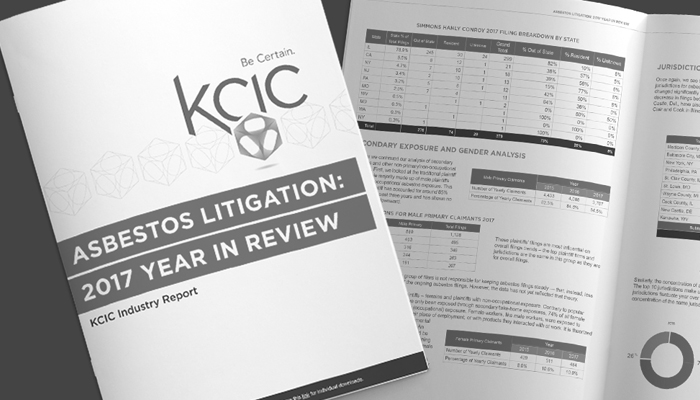 When it comes to the world of asbestos litigation, it's always good to stay up-to-date on the latest filing trends (and their impact) throughout the country. Gatherings like the Perrin Cutting-Edge Issues in Asbestos Litigation Conference in Beverly Hills earlier this month provide a forum for sharing these insights and trends. This year's conference contained a wealth of information.
I was a presenter on the opening panel— an opportunity to provide a first glimpse of KCIC's 2017 "Asbestos Litigation: Year in Review" report, which we have now released in full.
The report details data filing trends that KCIC has seen in asbestos litigation over the past three years. I talked about how we've observed an increase in filing concentration among malignant filings, despite an overall national filing decrease. I also shared how we continue to see an increased concentration of filing influence held by just a few plaintiff firms and within a few specific jurisdictions nationwide. Along with my co-panelists, who addressed asbestos verdicts and an analysis on defendant defense spend, I was able to help set the stage for our panel as well as other discussions during the conference. 

Many interesting topics were covered. Given the high concentration of filings in states like Illinois, Missouri and Pennsylvania, it was no surprise that other panels highlighted these jurisdictions, reiterating the filing trends that KCIC has observed; they also covered the current state of litigation in those locations. Other hot topics at the conference, and in our report, include the effects of recent personal jurisdiction decisions, the increase in talc verdicts, and the effects of bankruptcy trust transparency legislation.
So what is the future of asbestos litigation? Both the plaintiff and defense sides were eager to share thoughts on ways to make this litigation more manageable for the other, though there was no consensus between the sides. Nevertheless, with less than 10% decline in filings, over 10,000 unique entities named on complaints each year, and six plaintiff firms controlling over 50% of the national filings, there is certainly a lot of activity that shows little sign of slowing.