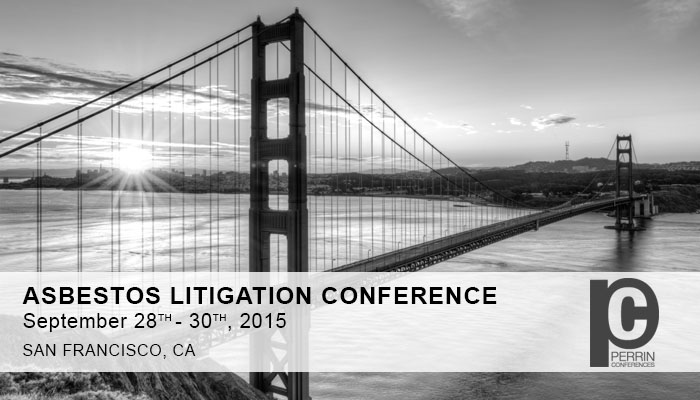 I'm looking forward to speaking at the Perrin National Asbestos Litigation Conference, Sept. 28-30, at the Fairmont Hotel in San Francisco. It's a great conference for KCIC to attend and sponsor, as many users of our Ligado platform will be there — both defendants and their counsel.
During the conference's many panels, both sides of the asbestos aisle engage in lively debate and discussion around asbestos litigation, and insurance carriers also weigh in on their role in defending and paying asbestos claims. The conference provides a good balance of historic review and up-and-coming issues.
KCIC is proud to co-sponsor this year's event — and specifically the Women in Business lunch on Sept. 29, which will bring women in the industry together to network and discuss important issues. One year, I learned that the asbestos bar has more female litigators and judges than any other area of the law. That's, in part, because when asbestos claims first emerged, it was generally believed they were not a big deal and, therefore, were often handed off to the women attorneys and women judges to "deal with"!
This year's breakfast will be moderated by Jillian J. Keith, Esq., Partner at Wilson Elser Moskowitz Edelman & Dicker LLP in Dallas.
Immediately following that lunch, I will participate in a panel discussion: Corporate Roundtable: In-house Perspectives on Asbestos Litigation. Joining me will be Nina Lynn Caroselli, Chief Operating Officer at The RiverStone Group; Holly A. Harris, Senior Counsel at Chevron Products Co.; and Paul Slater, Senior Counsel at General Electric Co. We will discuss the challenges of managing the problem of asbestos liability for defendants, including both the litigation management and finance sides of the problem.
To learn more about the conference, and to register, visit perrinconferences.com.