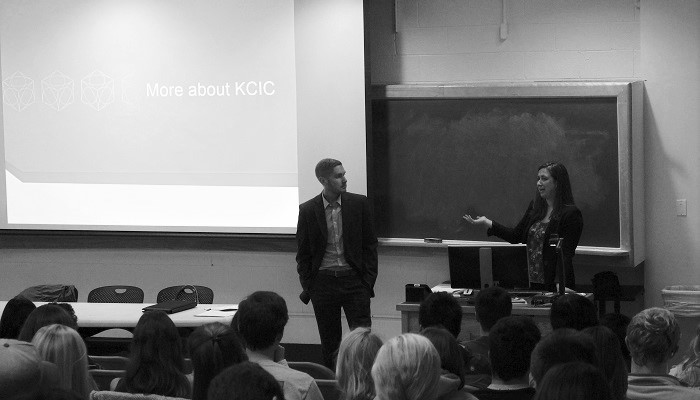 As mentioned in a prior blog post, I recently headed down to Charlottesville with a couple KCIC Consultants to speak to third-year Systems Engineering students at the University of Virginia.
We started with answering the "who are we?" question. Not only who is KCIC, but who are we as individuals? How did we end up at KCIC, and why do we work there?
When you're a student, there is a lot of uncertainty about the future. They know they came to school to ultimately get a job … but what does that path look like?  We spoke of about the opportunities we have found at KCIC, the engagement of working at a small consulting firm where you get to wear a multitude of hats, and the fulfilment we find in collaborating with our colleagues and clients to help solve complex problems. My colleague Zach Nerenberg was able to speak to his prior experience at a much larger firm, which was also helpful for the students to hear.
To help the students understand what KCIC does and who we work with, we talked through an example case study:
Client X has a large-scale liability that is costing them a ton of money, and given the systems (or lack thereof) being used to track them, it is somewhere between difficult and impossible to understand the scope of the issue, much less mitigate the risk involved. We then outlined how we would approach helping a client with such a situation.
Finally, we provided some high-level information about KCIC – namely walking through our values as a firm and how they were illustrated in the case study we'd just discussed. We also shared a little about our culture, including our commitment to service and our undefeated softball team!
We thoroughly enjoyed getting to speak in front of this group of students, and certainly hope we opened their eyes to a field of consulting they were not previously familiar with. And, as one of the smaller firms that will speak this year, we tried to provide unique perspective into working in an entrepreneurial environment and, specifically, working at KCIC.
We ended our trip by holding a networking event at a local restaurant. We had a great turn out of about 50 students – they may have come for the free food, but they stayed for the opportunity to talk to us in an informal setting about KCIC. There were so many students with so many questions that we were grateful to have Daniel Abel, one of our summer interns and a current UVA student, there as an additional resource!
Overall, it was one of our most successful recruiting trips to date! Before getting back to DC, we'd already begun brainstorming how we could repeat the experience at other schools — to continue spreading information about KCIC, while finding bright, qualified students to fill our next generation.