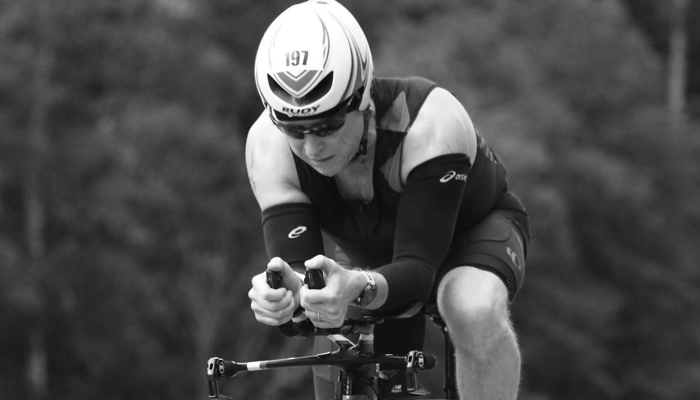 Last month, Jonathan Terrell, President of KCIC, wrote about the physical side of training for the World Marathon Challenge — 7 marathons, in 7 days, on 7 continents. In this post, he talks about how he is mentally preparing for such an ambitious race.
The mental preparation for endurance athletic events is just as important as the physical.
Let's face it: it sounds ridiculous when you consider the kinds of grueling challenges that endurance athletes routinely take on — hours and hours (and in this case, days) of exertion and, often, pain. You have to be a bit eccentric to willingly put yourself through so much, right?
Actually, the physical challenge and thrill of racing are just part of the story. As much as I enjoy the fitness gains that I have made on this journey, it's the mental preparation that has had the most positive knock-on effects on the rest of my life.
For me, it all comes down to a subtle interplay between three ideas: my sense of gratitude for the many good things in my life, my belief in myself and in God that will lead to athletic success, and my relationship with pain — which will allow me to endure much more than ordinary discomfort. All three of these things require daily practice and can be enormously improved by training. They comprise the foundation of my mental game.
The Importance of Gratitude
For me, a successful approach to training must be rooted first in a practice of gratitude – not just towards any athletic success I might have, but to all the good things in my life in general.
Before any race, I make a point to give thanks and be grateful that I am in good health and physical condition. I also express gratitude for my support system — my family, staff, trainers, and others. I give thanks for the day and often for the beauty of the course. I make a point to be grateful just to make it to the start line; everything else that comes after is a bonus. Getting to the start is the real race.
I have found that an outlook rooted in gratitude is also very beneficial outside of training. At bedtime, first thing in the morning, and if I wake up in the middle of the night, I think of all the things from the day for which I'm grateful. Anger, resentment, worry, stress, and other negative emotions have a tough time standing up against a sense of gratitude. Each day, this regular habit also resets my outlook on life in a positive way, and a side benefit is that I sleep far better – and that leads to better training, too.
The Role of Belief
My preparation also is rooted in belief. It is essential to believe that you can accomplish an ambitious athletic goal. If you don't believe you can succeed, then you probably can't. But if you believe it is possible, then all it takes is having a plan and executing it.
Believing I can do something is about both my self-belief and my belief in God. Just like competing in a race, cultivating belief is a process, not an event. Like gratitude, it takes daily practice.
When preparing for an endurance event, my belief gets reinforced through visualization — imagining the workouts and, ultimately, the race: what I will do when I get out of bed on race day, the course, the stops along the way, the finish line.
I must be fully present in every moment that I am in the race. That means focusing less on the conquest — a distance or final goal — and more on the action I'm taking at that particular point in time. It takes discipline, but not really thinking about the distance ahead enables me to do what I need to do right now to keep moving forward.
An Intimate Relationship with Pain
And finally there is the pain; there's just no getting around that. If you are an endurance athlete, then you endure pain. That intimate relationship with pain enables you to keep grinding away even while in extreme discomfort. Building this kind of mental toughness is what all successful endurance athletes do in their training. Our bodies are designed to put us into a state of discomfort long before we actually reach our physical limits. So it's hard, but it's not torture. Habituating yourself to pain can even transfer over to daily activities, making it easier — or at least more tolerable — to take ice-cold showers, donate blood, function in extreme temperatures, or cope with difficult people or situations.
It is interesting that my participation in the World Marathon Challenge is dedicated to mental health. There certainly is synergy between mental health and athletic activity. I know my own mental state has become more robust since I began competing in endurance events. Sweat is the best antidote to stress, I sleep better, and I'm more confident. Perhaps it is something to do with the meditative state I get into nearly every time I train. It's time by myself, perhaps with music or an audiobook, that allows me to recharge my mental batteries.
Before I became an endurance athlete, I had no sense for all the mental benefits one could reap. But now that I've experienced how all those benefits make my life better, I know this: I could never go back – I'm going to be competing in events until I can't.