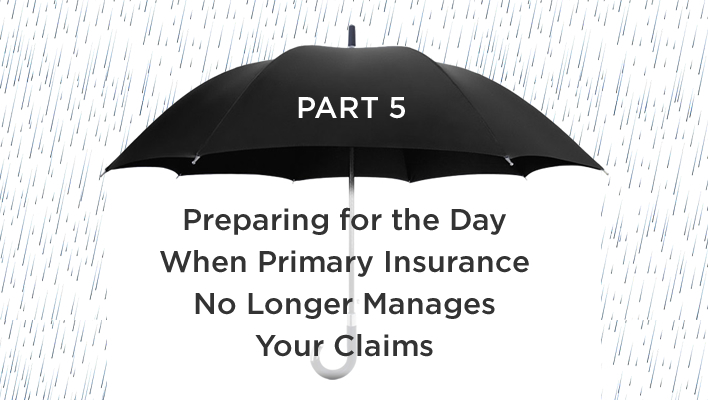 Will your umbrella and excess carriers pick up coverage where your primary carrier(s) left off?
In Part 4 of this series, we looked at what will be handed off to you to control once primary coverage exhausts. While it's important to work with your primary carrier and local counsel network to prepare for the exhaustion of the primary coverage, it also is imperative to be in communication with the umbrella and excess carriers to ensure they are ready to participate once the primary is out of the picture.
How to prepare:
Know Your Coverage.
The first step is to make sure you have a handle on what insurance coverage you have above your primary layer. Do you have copies of these insurance policies? Do you know what those policies say and what is covered? Do you know the applicable types of limits covered by these policies? An organized policy review may be a good idea to confirm you know exactly what coverage you have and with which carriers you will be working.
Determine when you might trigger … and start discussions.
What have your claims trends looked like? How many settlements are being paid each month and what are the remaining limits on your primary policies? This type of information will be crucial in estimating how long until you trigger your umbrella or excess carriers. In fact, they may require notice when underlying policies reach a certain level of exhaustion. It is important to know how long you have so you have time to notify/work with excess carriers to prevent a payment gap between when primary carriers stop paying and excess carriers begin.
Prepare a claims database to aid discussions.
You likely will have to prove to excess carriers that the underlying primary coverage has exhausted. This sometimes can be achieved with loss runs provided by primary carriers themselves. However, many times these loss runs are confusing or not detailed enough to satisfy excess carriers' needs. To alleviate this issue, it's a good idea to have a robust database in place to house all claims, documentation, and billing/payment information. This way, you're prepared and can quickly/easily produce documentation to prove exhaustion. Such a database will also be crucial to your claims processes going forward. Where you used to have one lead primary insurer, you now will likely have many excess carriers all needing claims information. Having one centralized location for such claims data and documentation will increase efficiency and allow your excess carriers to quickly and easily review the information they need.
This post marks the end of our Preparing for the Day series. What are the most helpful tips you have gained? Have you already taken any steps to be better prepared for the day your primary coverage exhausts?