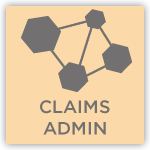 This is the 5th year we attended and sponsored the Perrin Asbestos Conference and it was the biggest one yet with over 500 in attendance. I heard several people call it the "must attend" asbestos conference – then many followed with "besides DRI of course". There were defense counsel, insurer counsel, in-house counsel and just a few coverage people.
The panels were good and as always focused on the underlying asbestos litigation our clients are involved in.
The hot topic was lung cancer claimants who clearly have smoking related diseases (emphysema, COPD), smoked for many years, but also had asbestos exposure. Discussion of the science of cancers and multiplicative effect of smoking and asbestos exposure were very common. There were medical experts as well as litigators discussing how they pursue and defend such cases. There was also debate on how long it takes for increased risk to go away—apparently if you haven't smoked in 30 years you are no more likely than a non-smoker to get lung cancer. The point of all of them was how you tie the disease and injury to asbestos (or hopefully not for our clients sake) in such cases.
Charlie Mullin gave a lecture on asbestos filings stats. This year he focused on saying that the Nicholson curve is drastically underestimating the meso cases because it did not account for non-occupational exposure which is quite significant per his data. It was hard to tell which parts of his presentation were based on actual data and which parts were based on some kind of extrapolation. The graph was pretty and it was a popular thing to tell this group—that meso is up and not going anywhere anytime soon.
My panel was on the ethics of insurer, insured and defense counsel relationships and went well. We discussed what you can do when insurers object to settlements, refuse to defend or only defend under a reservation of rights. I was able to explain that excess carriers and primary carriers require different data, so keep it all! For the first time someone at the cocktail hour called me out and said "You have been telling this group to get their data in order for 5 years and they still haven't done it". And thank goodness for us they haven't been listening.