Earlier this month I had the privilege of speaking at the Perrin Conference National Trends in Asbestos Litigation in Beverly Hills, CA, where I presented an overview of the filing trends from 2018.  Below are some high-level highlights we observed. Our 2018 Asbestos Report, set to be released at the beginning of April, will give more analysis into these figures and other trends seen in the data. 
In total, we received 4,029 asbestos lawsuits filed in 2018, which is about an 11% decrease from 2017 filings.  Over half of the filings in 2018 were mesothelioma claims and a little over a quarter were lung cancer claims.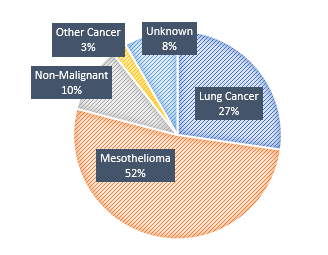 Focusing on mesothelioma claims, there was a decrease of filings of about 6%, but we saw significant increases in filings by some firms, most notable Simmons Hanly Conroy and Belluck & Fox.  Simmons Hanly Conroy was the largest filer, filing over 18% of all mesothelioma claims.  Mesothelioma claims continue to be overwhelmingly filed in Madison County, IL; in 2018, over 47% of all mesothelioma claims were filed in that jurisdiction alone. 
Lung Cancer filings only decreased by about 2%.  We saw some significant increases, however, in who was filing the lawsuits and where they were being filed.  We saw over 150% more lung cancer filings from SWMW than in 2017 and over 75% more filings from Belluck & Fox.   Most of the 2018 lung cancer claims were filed in St Clair, IL.  That jurisdiction saw an almost 30% increase in lung cancer filings, compared to 2017.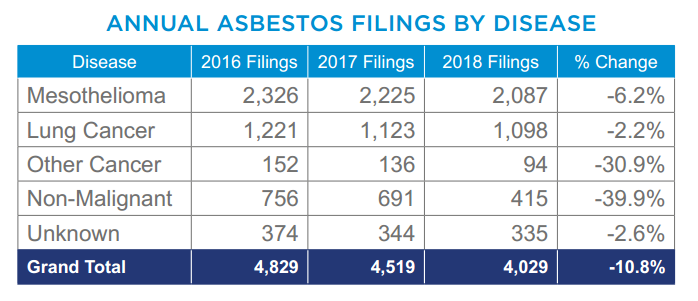 For the deeper dive into these statistics, please download your copy of the 2018 Asbestos Report!