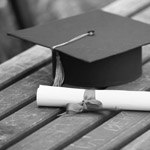 It's with great excitement that we say our on-campus recruiting season has wrapped up and proved to be our most fruitful yet!
We met with many impressive candidates at schools all over the Mid-Atlantic and had the highest offer acceptance rate in years. Come the fall, we'll be welcoming seven new hires to our firm: two from the University of Richmond, two from George Washington University, and one each from the College of William & Mary, Johns Hopkins University, and the University of Virginia.
Additionally, we will also welcome three interns to work at our firm this summer: one each fromOccidental College, the University of Virginia, and Gettysburg College.
Something that delighted us as we met with the candidates is that they "get" our company. They could even quote from our Playbook — proof that the work we've been doing around organizational health helped attracting highly capable and enthusiastic individuals to join our team:
Full-Time
University of Richmond: Becca and Jessica
George Washington University: Max and Paige
College of William & Mary: Mary
Johns Hopkins University: Olivia
University of Virginia: Carrington
Interns
Occidental College: Ellin
University of Virginia: Harry
Gettysburg College: Hannah
We can't wait to welcome these new additions to the KCIC family!