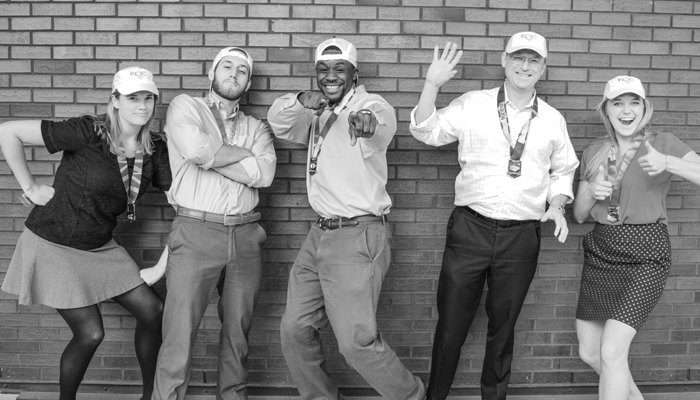 This past weekend, five members of the KCIC team gathered in Virginia to participate in the Richmond Marathon races. The beautiful fall weather provided perfect conditions for all participants to enjoy the day, and the event was a success for us as a group, and as individuals.
I joined Okey Onyiuke and Morgan Heczko in completing the full marathon race (26.2 miles), while Rachel Donze and Bennett Jacobs completed the half marathon (13.1 miles).
It was the first full marathon for Okey, who claimed it to be "the greatest accomplishment of my KCIC career". I provided Okey with some tutelage, and he proved to be a diligent mentee — so much that he wound up surpassing his teacher during the race, posting a 3:48 finish. (That was not enough, however, to break the current KCIC marathon record of 3:38 held by Patrick Madl.) Morgan, who completed her second marathon in a month, said training and racing was "a great way to see the city and get some exercise in when I'm not riding my bike".
As for myself — after completing my first full IRONMAN triathlon four weeks before — I crossed the finish line in a little under four hours sporting the newly designed KCIC running hat. It felt great to compete in a logistically less complicated race than the triathlon, and that hat provided the aerodynamic shape I needed to finally break four hours — a goal that had eluded me for quite some time.
The half-marathon finishers broke new ground. Neither had completed a race at that distance before. In fact, for Rachel, it was her first race ever. She looks forward to setting a new personal record in the future, especially now that she has the KCIC hat to speed her up. Bennett enjoyed the race as a way to run through the city where he attended school. After accepting my challenge, he deemed it an experience well worth the effort.
Come the following Monday morning, all of the competitors were united in a different way: by the limps and hobbles shared down the hallways.
The only question is — who will join us for the next race?