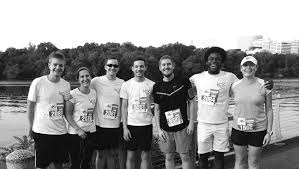 In what has become an annual event for KCIC, members of our team took part in the "Lawyers Have Heart Races" to raise funds for the American Heart Association.
This year's race was on Saturday, June 11, along the Georgetown waterfront in Washington, D.C. Comprised of a 10K run, 5K run and 5K walk, the event unites the Washington legal community to fight heart disease, which significantly impacts those working in the high-stress profession.
KCIC fielded a team of 26 participants — five for the 10K, eighteen for the 5K run, and three for the 5K walk.
Among the notable accomplishments on our team, KCIC Senior Consultant Trevor Cornell ran the second fastest KCIC time ever for the 5K race, with a time of 21:53. KCIC Manager Andrew Petryszak set a new 10K personal record, posting a time of 45:42. KCIC Consultant Paige Hagopian ran 55:40, the fastest 10K women's time for KCIC that day.
Five KCIC team members ran their first race ever. Among them was KCIC Consultant Adam Goldsmith, for whom the event had special meaning. Adam had a heart condition when he was young — a condition that was fixed when he had open heart surgery at age 15.
As a team, KCIC's 5K runners came in 15th place overall — not too shabby out of 128 teams (including some giant law firm teams). We look forward to next year!
KCIC places a priority on getting out into the community to have fun and make a difference as a team!