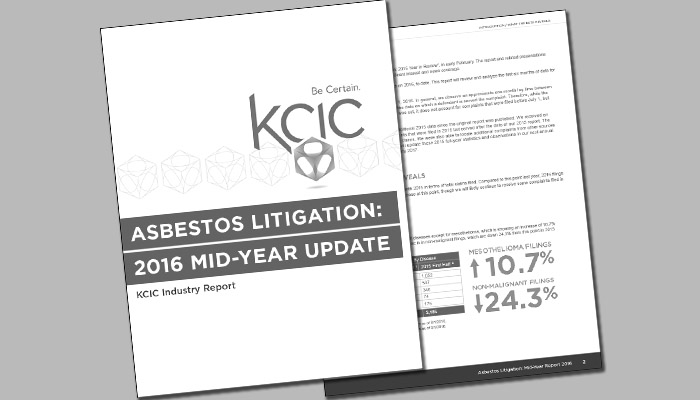 Early in the year, KCIC published our "Asbestos Litigation: 2015 Year in Review" report, which provided a snapshot of the state of the industry last year.
It's the kind of deep analysis that we often do as part of our Consulting work with defendant companies. We know how illuminating it is for our clients. However, aggregating data across the industry was, frankly, a new endeavor.
It was an endeavor worth pursuing. The report — and related presentations made at industry conferences — generated considerable attention, including from several news outlets.
Clearly, there is interest in understanding the full impact of the asbestos litigation business — looking closely as what is being filed, where, and by whom.
For that reason, we have just released our "Asbestos Litigation: 2016 Mid-Year Review" report. We will still publish a more comprehensive full-year 2016 analysis in early 2017, but this mid-year check was an opportunity to take a "first look" at how 2016 is panning out.
As I say often, the tort system exacts a high price on U.S. companies of all sizes. Defending civil suits — not to mention paying settlements — represents a significant tax on this country. KCIC's Platform Related Consulting Services help companies navigate that system. Still, it's very helpful at times to pull out a map and see the larger landscape — and where things might be headed.
Next week, Michelle Potter will discuss the mid-year findings at Perrin Conferences' Asbestos Litigation Conference: A National Overview & Outlook at the Fairmont Hotel in San Francisco. As she details in this blog post, she will take part in the panel discussion "National Trends Driving Asbestos Litigation" on Sept. 12. If you will be at the conference, be sure to look out for the KCIC team, including at the continental breakfast that we will sponsor on the first day. We hope to see you there.