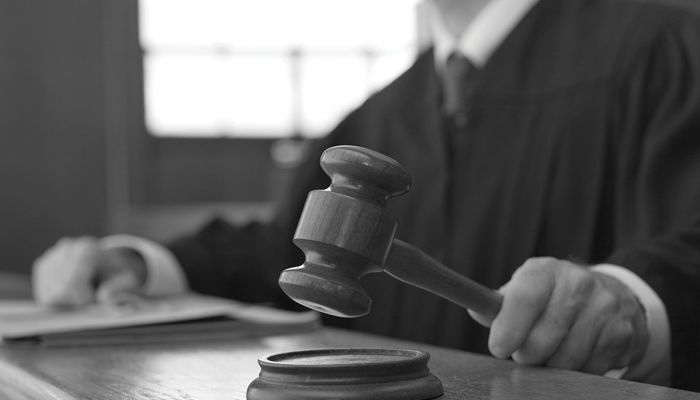 KCIC Vice President Michelle Potter co-authored this blog. 
I recently read an article written by Thomas W. Tardy, III, a director in the Jackson, Mississippi, office of Maron Marvel Bradley Anderson & Tardy, about the classification of asbestos litigation as a mature or immature tort. As I started reading, I thought asbestos litigation must be a mature tort. It's been around for over a generation. What other tort has lasted this long and shows no real sign of coming to an end soon? However, Tardy argues that asbestos litigation, at one time, was considered a mature tort, but currently, he would classify it as an immature tort.
What Makes a Mass Tort Mature?
That's the first question. In short, a mass tort is considered mature when there is a large, continuous volume of claims and established evidence and application of common legal principles across the class. Asbestos mass torts were once considered mature. There has obviously been a large, continuous volume of claims, and there were common legal principles you could apply to the cases. But, Tardy argues, as larger defendants filed for bankruptcy and exited the tort system, they were replaced by a new class of smaller, peripheral defendants. Compared to asbestos litigation in the 1990s, defendants now have new defenses available, such as alternate exposure claims and Daubert challenges. Also, he points out that judges increasingly reject plaintiff firms' more novel legal theories, like claiming premises owners owe a duty to plaintiffs "exposed off-site through 'take-home' exposures to asbestos through occupationally exposed workers and their clothes."
Defense Verdict Trends
Tardy cites data showing defense verdicts are on the rise and that remittiturs and post-verdict adjustments are following the same trend. The change in tide toward defense verdicts points to the changing defenses and evidence and, thus, contributes to immature classification. In the article, he examines trends specifically seen in defense verdict outcomes in California and New York that he believes are representative of overall national trends. In California, for example, defense win rates climbed from 28% in the 1990s to a shocking 60% in 2016. Similarly, the defense verdict percentage in New York rose from 15% in the 1990s to 43% in 2016. Tardy also describes decreases in verdict amounts, with the post-reduction verdicts averaging one-third the totals initially awarded by juries. Looking back at New York, Tardy's data show judges in the Empire State were responsible for more than 95% of reductions nationally in 2013.
Filing Trends
At KCIC, we've been tracking new filing trends and have seen filing numbers in these two states drop between 2014 and 2016. In California, we've seen close to a 33% drop in new filings, especially in Los Angeles. In New York, we've seen around a 10% drop in filings in the same period. Although the number of claims filed in those states over the past three years has decreased, we have not seen a similar decrease in national asbestos filings. In fact, the mesothelioma filings, which are the main economic driver of this litigation, have stayed remarkably consistent over the past few years in terms of annual filings. This seems to suggest that as one jurisdiction decreases, another must increase.
Is the asbestos litigation market a zero-sum game? Our data from Illinois suggests the answer might be yes. Mesothelioma filings in Madison County, Illinois, jumped from 42% of national filings in 2014 to 47% in 2016. Travelling north, our data shows mesothelioma filings in Cook County, Illinois, dropped from 5% to 4% over the same three years. Looking closer at the same jurisdictions, plaintiff firm Cooney and Conway made up almost 90 percent of the mesothelioma filings in Cook County between 2014, when they filed 111 claims, and 2016, when they filed only 84 claims. In this same time frame, our data shows Cooney and Conway filed one mesothelioma claim in Madison County in 2014 and a whopping 44 in 2016.
With more defense verdicts and some awards being drastically reduced in certain jurisdictions, as Tardy shows, and with new filing counts decreasing in these same states, as KCIC has found, we wonder: Are these verdict trends driving filing trends? Are verdicts in some jurisdictions driving filings to other jurisdictions with different laws, which may yield different outcomes at trial?
Recently we've observed a trend in asbestos filings in St. Louis, Missouri. Filings were on the rise in 2016. They were an emerging jurisdiction in our annual asbestos litigation report and also were classified as the top "judicial hellhole" by the American Tort Reform Foundation. In March 2017, the Missouri governor signed into law House Bill 153, aligning Missouri with a majority of jurisdictions that apply the Daubert standard in the courtroom, officially setting standards for expert witness testimony and opinions.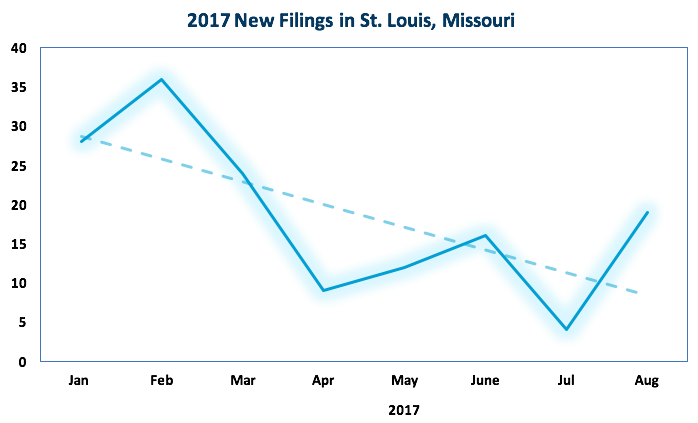 Afterwards, filings dropped substantially in St. Louis. Then, in June 2017, the U.S. Supreme Court issued an opinion in the Bristol Meyers Squibb case, limiting where defendants could be sued. St. Louis then saw another drastic drop in asbestos filings. 
We revisit the question of whether or not the asbestos mass tort passes the mature tort test. While we do see a large, continuous volume of claims, given the variety of applications of law across national jurisdictions and a general lack of universal legal precedent, we at KCIC agree with Tardy — the asbestos mass tort is far from mature.