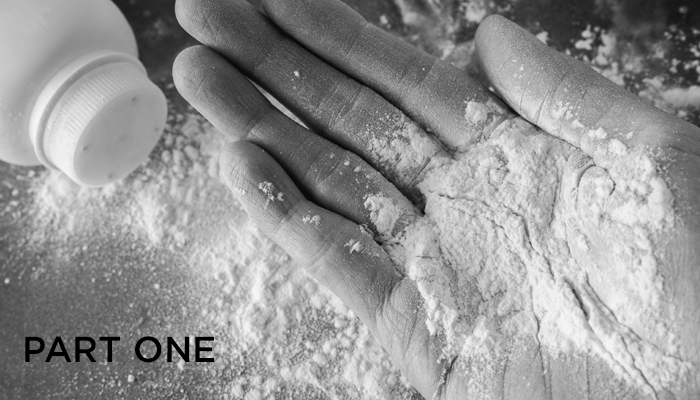 Over the past year, at any product liability, insurance or asbestos conference we've attended, the topic of talc has always been addressed by at least one panel. The two main fall conferences that we will be attending, Perrin and DRI Asbestos Medicine, both have prime-time panels on talc. Discussion includes current talc cases as well as the current state, and future, of talc litigation overall. Some panelists have gone so far as to predict that talc litigation has the potential to be the next asbestos — a multi-billion-dollar litigation involving thousands of plaintiffs and defendants over decades. Why all the buzz?
In short, a series of large, high-profile verdicts against cosmetic talc manufacturers has defendants and insurers extremely concerned. Cases finding cosmetic talc as a cause of ovarian cancer have led to some eye-bulging verdicts. In 2016, Johnson & Johnson went to verdict in three separate actions in St. Louis over allegations that exposure to its baby powders caused ovarian cancer. Johnson & Johnson lost, to the tune of almost $200 million. It's not just the size of these verdicts that is cause for concern. Also troubling are asbestos-related verdicts against cosmetic talc manufacturers, alleging asbestos contamination in the talc. While smaller, these cases are a red flag, given the widespread use of cosmetic talc and the large number of products containing it. These amount to very dangerous developments for talc manufacturers and the insurance industry:
There are over 22,000 new ovarian cancer diagnoses each year and more than 14,000 women die from the disease annually.
Ovarian cancer victims are typically younger than those suffering from asbestos-related disease, leading to higher awards of compensatory damages.
Thousands of companies have used cosmetic talc in their products.
Talc use was so ubiquitous that the exposed populations is probably close to the entire population.
Traditional product identification defenses will be weakened or impossible given the points above.
Talc manufacturers are an attractive addition to the defendant pool for plaintiffs to pursue asbestos-related claims.
Exposure periods will tend to be very long – beginning at birth.
Many insurance policies may potentially be triggered, and asbestos-exclusions will not apply to ovarian cancer claims.
All in all, this is a dangerous combination of factors. Please stay tuned for three upcoming blog posts on this subject:
An overview of talc basics
A review of the current state of litigation and talc-related verdicts
A consideration of the attendant insurance issues