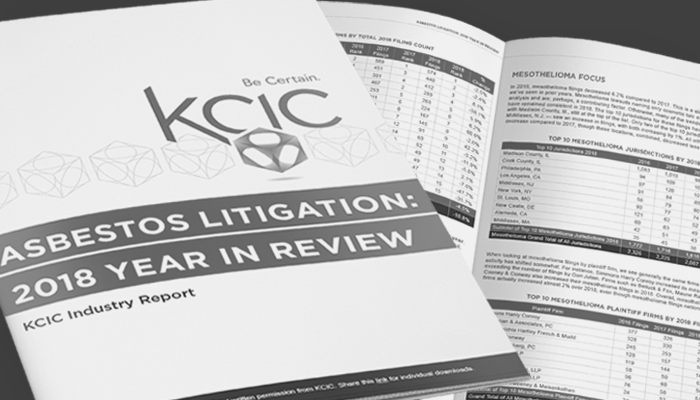 I recently had the pleasure of co-hosting KCIC's first Webinar on the asbestos litigation filing statistics.   For the past 4 years, I've been intimately involved in the analysis and publication of KCIC's annual Asbestos Litigation Trends Report and related mid-year reports and/or blog posts.  After living in the report for so long, it was a fun change to be able to present it live.
The statistics presented were based on asbestos complaint filings received and processed by KCIC through the end of March 2019.  Filing trends by year and disease were presented, along with an overview of 2018 filings received since our 2018 Report was published.  Similarly, we broke these numbers down by plaintiff firm and jurisdiction to highlight trends in filing patters and concentration of filings in the top few firms and venues.
We also took a deeper dive into mesothelioma and lung cancer filings – again focusing on the main players and trends that have emerged over the past several years.  While the number of mesothelioma and lung cancer filings in the top jurisdictions has decreased at a similar rate as total filings for these diseases, we found that the number of lawsuits filed by the top plaintiff firms is actually increasing.  The top 10 plaintiff firms for mesothelioma filings increased their numbers by 2% from 2017 to 2018, compared to a 6% decrease in overall mesothelioma filings.  Even more dramatic – the total filings for the top 10 lung cancer plaintiff firms increased over 9% between 2017 and 2018, compared to a 1.3% decrease in lung cancer filings nationwide.
From there we continued our analysis on filings by gender and exposure type.  We looked at the male to female ratio year over year and based on different exposure types (primary, secondary, non-occupational).  We ended with a look forward which included an overview of 2019 filings received so far, as well as a preview of upcoming content for KCIC's blog and future reports.
What I liked most about the Webinar experience was that we were able to take questions from the audience and answer them in real time.  It was exciting to have that live interaction to be able to further explain what we are seeing in the data and give more details on topics of interest.  It was also interesting, after having produced numerous reports and KCIC presentations on the data, to hear what really interests our audience and to collaborate on ideas for future content as well!
We plan to publish additional blog posts and host more webinars focusing on the content below so please stay tuned! 
An update on the mesothelioma incidence and propensity to sue based on new SEER data published earlier this year
Mid-year update on claims statistics
Additional analysis regarding defendant company naming trends
For additional questions or inquiries, please contact me at shockleym@kcic.com.