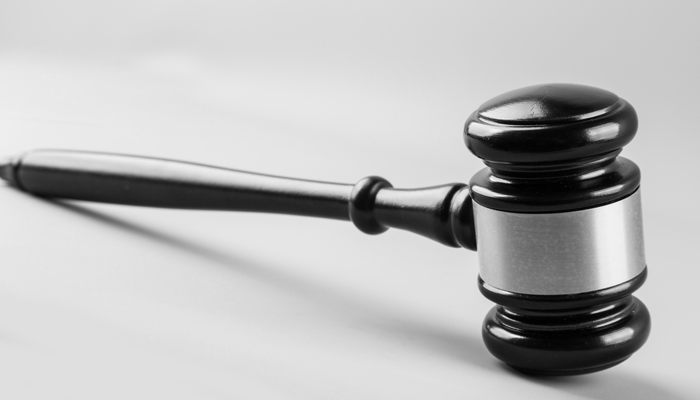 In my previous blog post discussing the new asbestos litigation documentary, "UnSettled", I touched on the bankruptcy filing of Georgia-Pacific's affiliate Bestwall. News of the bankruptcy arrived while KCIC attended DRI's Asbestos Medicine Conference in early November and quickly rippled through the conference. 
Background
Bestwall was a manufacturer of joint compound, which primarily contained gypsum or limestone that mixed to create a compound to seal drywall joints and other surfaces. According to the informational brief filed with North Carolina's bankruptcy court, the Bestwall product itself contained approximately 3-5% of chrysotile asbestos and presented relatively low exposures to asbestos in comparison to insulation and construction material products. Joint compound products like Bestwall's were estimated to represent only 1.5% of all asbestos-containing products manufactured and sold in the United States. Even though Bestwall should have represented a small fraction of the asbestos product market, it has been engaged in asbestos litigation for approximately 40 years. Over this time, Bestwall explained that it had spent approximately $2.9 billion defending cases filed against them, with over 96% of those costs incurred within the last 18 years. One must wonder what could have happened to cause this surge in costs around the turn of the millennium.
It seems that Bestwall was caught up in the bankruptcy wave of the early 2000s. As many of the target defendants filed for bankruptcy, plaintiffs' counsel found new defendants to fill their place. And with fewer major asbestos manufacturing defendants in the tort system, defendants like Bestwall not only saw an increase in claims, they also saw a rise in settlement values. Over time, plaintiffs began identifying Bestwall products as significant contributors to their exposure and stopped identifying sources of alternative exposures through bankrupt companies. As we have discussed elsewhere on the blog, plaintiffs would later submit claims to trusts they failed to identify in the tort system. 
Analyzing Bestwall's Filings
Through KCIC's Claims Administration work, we estimate that we process at least 90% of all asbestos-related complaints filed in the U.S. This provides us with the opportunity to review trends and various statistics pertaining to the state of asbestos litigation. Through this data, we were able to analyze Georgia-Pacific's (GP) filings and compare them to the overall population of filings. Our review of claims filed between January 2016 and mid-December 2017 showed that GP was named on roughly 68% of all claims filed during that period, demonstrating their role as a major defendant. Over that time, they received new complaints in over 30 states, with concentrations of filings in the usual suspect states—Illinois, New York and Maryland. 
Given that they were so heavily involved in asbestos litigation, it came as no surprise to see that GP received large volumes of filings from seven of the top 10 plaintiff counsels filing nationwide during 2017. In fact, the top two filers overall — Gori Julian & Associates and the Law Offices of Peter G. Angelos — were also the top two filers against GP — naming the defendant on average 99% of the time in the first half of 2017. In a review of GP's filings broken down by disease, we saw a similar trend to the national figures. Mesothelioma was the most prominent allegation, with GP named in nearly one out of every two complaints filed against them in 2017, which is right on par with the national percentage of mesothelioma filings. 
As of July 2017, it appeared that filings against GP were reaching a high — 80% of complaints filed included GP as a defendant. Then, on July 31, 2017, GP underwent corporate restructuring and reincorporated in North Carolina. Subsequently, filings showed a moderate decrease, though not as significant as to what we observed with Kaiser Gypsum. However, as expected, once GP's affiliate Bestwall filed for bankruptcy, we saw a sheer and sudden drop-off in filings. While we acknowledge that a filing reduction may be observed upon submission of the petition for bankruptcy due to the automatic stay granted to the debtor, there is generally no legal reason precluding the plaintiff from naming the now-bankrupt defendant. And even considering this filing pattern change, one would hope that knowledge of the product exposure would not disappear from the plaintiff's recollection of exposure.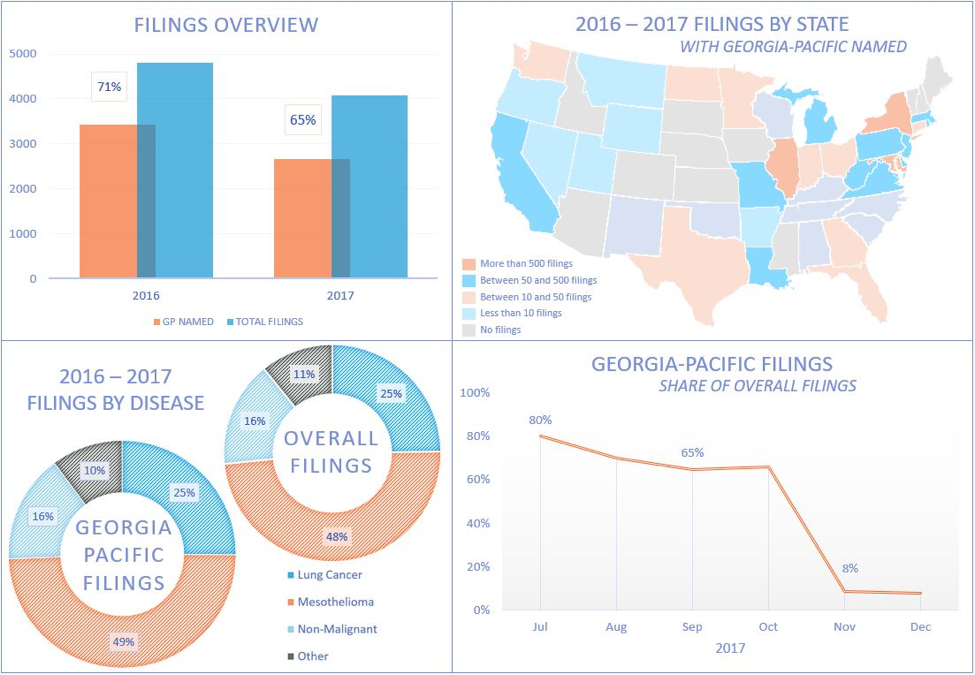 However, as seen in the Garlock case, plaintiff exposures to now bankrupt products seem to reallocate themselves to the new solvent population. This is a significant concern prevalent in asbestos litigation — the lack of transparency between the bankruptcy trust claim system and the personal injury filings in the tort system. Once entities like Bestwall file for bankruptcy, they tend to disappear from the record entirely. 
Download Our New Case Study
KCIC's Bankruptcy Evidence Verification (BEV) tool helps tackle this problem. We designed BEV to enable defendants and their counsel to keep evidence of bankrupt companies on the record in the tort system. Through quick and easy reporting, you can run a report to build a case of alternative exposures, as we describe in this new case study. If you are interested in learning more, please reach out to request a demo.