I had the pleasure of speaking on the opening panel at Perrin's National Trends in Asbestos Litigation Conference in San Francisco earlier this month. I presented KCIC's findings regarding asbestos filing trends over the past three years. In general, we show that mesothelioma claims are decreasing at about 5% per year, lung cancer claims are relatively constant year over year, and non-malignant claims show a great filing swing from one year to the next.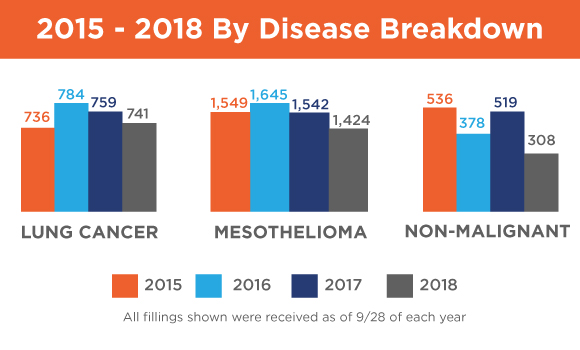 Several attendees asked: If the data shows that diagnoses of mesothelioma, per the SEER data, are not decreasing year over year, why do we think asbestos filings alleging this disease continue to decrease?
One of my co-panelists, Lisa Oberg from Dentons, offered an answer. She spoke about the growing notion that mesothelioma can be caused by factors other than asbestos. She discussed how mesothelioma can be caused by genetic factors, specifically the mutation of the BAP1 gene, even without any exposure to asbestos products. This isn't alternative exposure but an alternative cause of mesothelioma.
For example, Lisa pointed to the two main types of mesothelioma, pleural and peritoneal. In mesothelioma cases from traditional asbestos exposure, 86% are pleural and 14% are peritoneal, and the average age of the claimant is 72. However, if you look at mesothelioma plaintiffs with the BAP1 gene, 50% are pleural and 50% are peritoneal, and the average age of the claimant is 56.
Lisa argued that if a claimant has peritoneal mesothelioma, there is a higher likelihood that the claimant could have the BAP1 gene. Questions should be asked about family history of cancer. If there are cancers in the family — especially kidney cancer and skin cancer, which are highly hereditary — then the likelihood is even greater that the BAP1 gene is present.
The goal for defendants should be to identify such cases as early as possible. If a claimant does not have traditional asbestos exposure and is relatively young, then it may be worth the investment to request the test for the BAP1 gene — to see if it points to this alternative cause of mesothelioma.