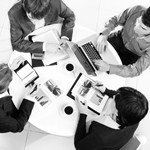 Reaching the excess layer of coverage can pose many obstacles for policyholders. For that reason, a roundtable luncheon was devoted to the topic during the American Bar Association's Annual Insurance Coverage Litigation Conference in Tucson.
I was happy to be part of that lively discussion, which for its title took a cue from a popular childhood game: "Chutes and Ladders: Hurdles and Rewards of Reaching the Excess Layer of Coverage."
I was joined by Anna Engh of Covington & Burling and Tony Jones of Troutman Sanders. Our luncheon talk focused on:
Implications of Qualcomm and Zeig Caselaw – These cases address whether a policyholder can settle with a primary insurer for less than policy limits without jeopardizing excess coverage. Since specific language in an excess policy is critical, I shared how KCIC's Ligado Platformallows policyholders to effectively store, summarize, and manage this type of data when settling or litigating insurance coverage. We also discussed ways to avoid the pitfalls associated with Qualcomm policy language: reading and knowing your excess policy language before reaching a settlement with a primary insurer, or settling with excess insurers before the primary.
Horizontal and Vertical Exhaustion of the Primary Layer – Also touched on were ways insurers and policyholders might account for settlement credits in an "all-sums" ruling. Outcomes could vary significantly with a non-settled insurer when accounting for settlement credits based on the amount received from the settled insurer versus the amount of limits settled with the insurer. We also discussed a case currently pending before the Ohio Supreme Court. It surrounds vertical spiking by a policyholder in an "all-sums" jurisdiction where the policyholder has settled with its primary insurers on a horizontal pro-rata basis.
Burden of Proving the Underlying Exhaustion – We concluded with a discussion around the task of proving that underlying coverage is exhausted. While primary insurers may take the lead in handling underlying claims, the record keeping often does not meet an excess insurer's requirements. We talked about how to combine different sources (loss runs, underlying claims files, internal policyholder spreadsheets, or summary information) to form a more complete picture. We also debated who ultimately bears the burden of proving that the primary is truly exhausted.
What Do You Think?
Do you have thoughts, tips or experiences to share on reaching the excess layer of coverage? I welcome your comments.