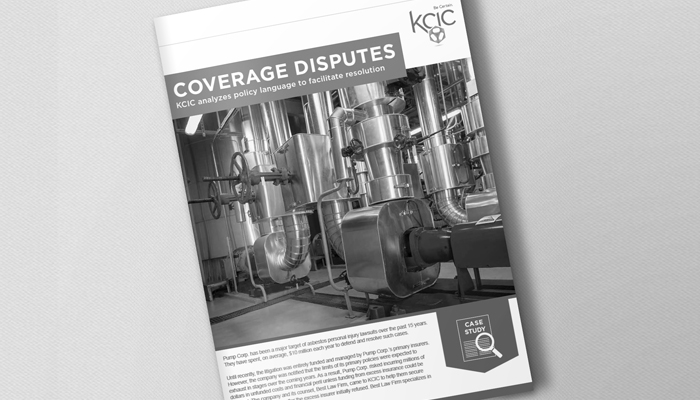 KCIC has long been at the forefront of combining insurance contract language with database technology, though many are more familiar with our asbestos litigation reports and related offerings. Now you can request a demo or download our new case study about how we helped a client secure continued insurance coverage and make informed decisions on how to mitigate future coverage risks. 

Our philosophy has been to isolate key sections of insurance policies and analyze them at the granular level. We then provide always-on access to this information for our clients on The Ligado Platform. By turning complicated legal prose into data points, we can quickly analyze, sort, report, and model the economic impacts of various interpretations of the contract language.
We made significant investments in the product in 2017. Last year, our consultants combed through thousands of policies and policy language records to compile a database of hundreds of common policy forms and thousands of pieces of policy language. Now, we can leverage this database to quickly populate many of the key terms for general liability policies.
Ligado's policy analysis and management interface also got a bit of a makeover. Users now have more sorting and filtering options available, the ability to collapse the sidebar, and they can highlight multiple provision values at once (think different kinds of pollution exclusions, for example). Insureds and their counsel can conveniently store policy information and documents, generate ad hoc policy data and language reports to support briefs and exhibits, and visualize the coverage block.
The result is game-changing litigation support. We're excited to put these new features to work for clients facing disputes with their insurers. Please contact me if you are interested in learning more.