Emerging Asbestos Trends: Eye of the Storm - Webinar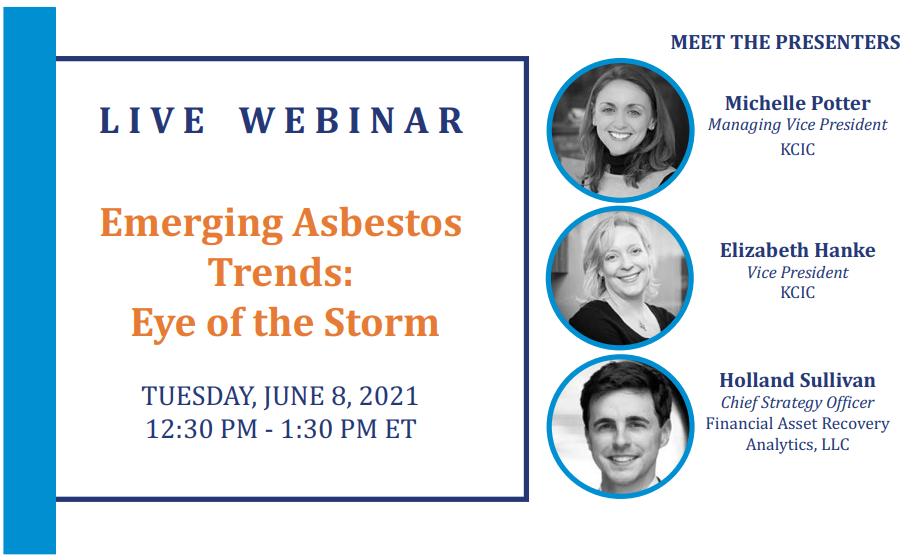 Notice something different about 2020?  Beyond the obvious, the global pandemic accelerated long-simmering trends in every field, and asbestos litigation was no exception.  Following up on KCIC's release of its 2020 Asbestos Report, we convert insights into action.
In this rapid-fire 45-minute webinar, you will learn:
How to respond now to signals embedded in recent data (case backlogs, Nicholson model deviations, DOFE Creep, propensity to sue inflation, etc.)
How to capture near-term expiring value from The Great Reset
How corporate leadership can demonstrate ESG leadership while de-risking contingent liability exposure
Join KCIC's Michelle Potter and Elizabeth Hanke with Holland Sullivan of FARA Recovery as they pinpoint actionable insights from the 2020 KCIC Asbestos Report.
Please register here. 
Just to be safe, hit subscribe
Never miss a post. Get Risky Business tips and insights delivered right to your inbox.