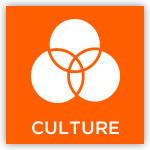 KCIC participated in the annual DC Public Schools Beautification Day last month as part of its KCIC Cares community service program. The DCPS Beautification Day takes place each year the weekend before the first day of school in an effort to ready the school grounds and buildings so that they are in the best shape possible before the new school year starts. This was the third year that a group from KCIC has participated in this program, and the second consecutive year at Calvin Coolidge Senior High School.
Upon arrival, the volunteers were split into two groups to take on different projects for the day. The first group was responsible for painting a break-out room for the high school's senior class. The room will be used as a place seniors can meet before/after school and during free periods. A ribbon was painted across the perimeter of the entire room in the school colors of orange and gray (coincidentally the same colors recently chosen to represent KCIC). A floor to ceiling chalk board was also painted on one wall for the students to use, as well as a large "C" for the Colts – the school's mascot. The KCIC volunteers worked closely with members of the school's art department to transform the room into a bright and cheerful space full of school spirit.
The second group of KCIC volunteers spent the day outside on the school's grounds. Many worked to weed and plant in the educational garden, a space some had worked in during the previous year's Beautification Day. Others spent time weeding around the marquee which, prior to the volunteer efforts, was barely visible from the street.
As always, the beautification day proved to be a great experience for KCIC employees and their friends and families to get together outside of work and make a difference in the DC community.