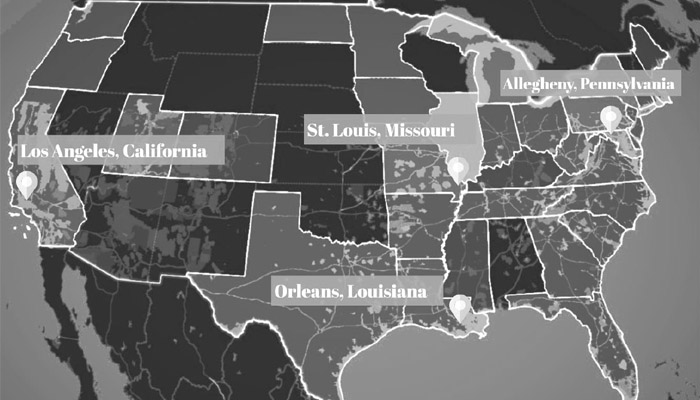 I had the esteemed pleasure of being a part of the opening panel at the recent Perrin Asbestos Litigation Conference: A National Overview & Outlook, which took place on September 12-14, 2016, in San Francisco, CA. The opening panel was entitled "National Trends Driving Asbestos Litigation". I started the panel by presenting numerous statistics, which we have gathered from the asbestos-related complaints we have received this year through August 31.
KCIC has received 2,743 asbestos-related filings through August 31, which is about a 2 percent decrease compared to this time last year. These filings were mainly seen in Madison County, IL; New York, NY; and Baltimore City, MD. The plaintiff firms with the most filings so far in 2016 were Gori Julian & Associates, Simmons Hanly Conroy, and Weitz & Luxenberg.
About 54 percent of the total filings — nearly 1,500 claims — are mesothelioma claims. Over half of the mesothelioma cases have been filed by the top five plaintiff firms, and 65 percent of the filings originate from the top five jurisdictions. The top jurisdiction — Madison County, IL — has received almost half of all the mesothelioma filings received to date. It is interesting to note that Madison County, IL, is the number one jurisdiction for mesothelioma filings, having received 712 filings so far in 2016. The number two jurisdiction for mesothelioma filings — St. Louis, MO — has received only 72 mesothelioma filings. Also worth noting: Mesothelioma filings are highly concentrated in Illinois.
Lung cancer filings make up about 24 percent of the total filings received this year through August 31. Of these cases, Gori Julian & Associates filed the most cases at 120 and Napoli Shkolnik is second with 62. Again, Madison County, IL, is the jurisdiction with the highest number of filings, but the percentage of total lung cancer filings is much lower than that of mesothelioma. Madison County, IL, has seen 102 lung cancer filings according to our data and the number two jurisdiction — again St. Louis, MO — has seen 94 lung cancer filings to date.
On the panel, I also highlighted multiple 2016 "emerging jurisdictions" which we have seen notable changes in 2015 versus 2016. The jurisdictions discussed were Los Angeles, CA; Orleans Parish, LA; St. Louis, MO; and Allegheny, PA. These jurisdictions have all seen an increase in filings this year versus last year at this time. We have also seen some plaintiff firms start filing cases this year in these jurisdictions in which they did not file last year.
Finally, I presented statistics regarding the number of defendant companies named in complaints we have received. Over 50 percent of all the lawsuits name more than 50 defendant companies. The average number of defendant companies named in 2015 versus in 2016 has stayed fairly consistent. Looking at the average number of defendant companies named in each complaint in 2015 versus 2016, there was a slight increase with the averages being 66 and 68 respectively.
The presentation with this data can be seen here. If you have not yet had the chance to read the KCIC report which this presentation was based on, the report is available for download here.
Following my presentation, Judge Jaffe from New York spoke about the New York litigation, and Anne McGinness Kearse from Motley Rice LLC spoke about the asbestos verdicts we have seen so far in 2016. The members of the panel then had a discussion around these trends. Additional panelists included Perry Browder from Simmons Hanly Conroy and William Mahoney from Segal McCambridge Singer & Mahoney, and the co-chairs were Nina Caroselli from The RiverStone Group and Joseph Rice from Motley Rice LLC.
The panel noted: From these statistics, filings seem very stable with little movement up or down. The panel agreed that filings are consistent and are not expected to change. However, there was some discussion around the makeup of the filings changing. The assumption amongst the panel was that occupational exposures — workers who allegedly were directly exposed to asbestos in the workplace — are decreasing, and non-occupational exposures — those who allegedly were exposed by a family member's clothing or as a bystander — are increasing. This trend could be further analyzed to see if the data supports the hypothesis.
Later in the conference, my colleague, Elizabeth Hanke, spoke on the panel titled "Update on Coverage & Allocation — The Practical Implications of Viking Pump". Stay tuned for a blog post about her panel discussion and the new Viking Pump decision that just came out on September 12.