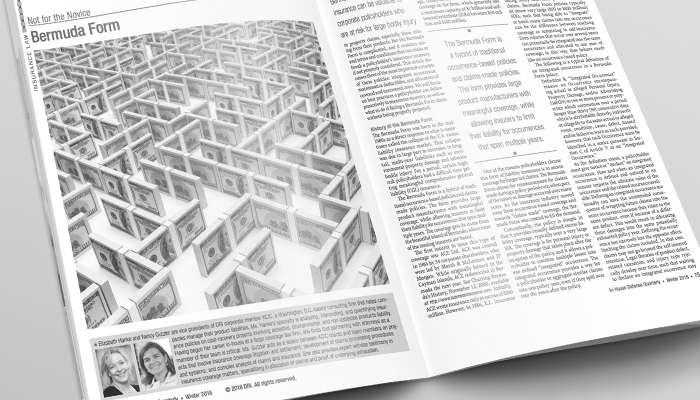 While Bermuda has long been known for its pink sandy beaches, it has also been known since the early 1900s for its insurance and reinsurance markets. In fact, there is a specific form of liability insurance that carries the island name — The Bermuda Form. Developed in the mid-1980s, this type of insurance has provided large product manufacturers with meaningful coverage, while allowing insurers to limit their liability for occurrences that span multiple years.
KCIC is frequently engaged to support large corporate policyholders with Bermuda Form insurance. We have assisted our clients with settlement negotiations as well as related mediation and arbitration proceedings. Specifically, KCIC has had the opportunity to review and summarize defense costs; value covered and uncovered costs as they relate to an integrated occurrence; organize multiple claim data sources to assist in proving exhaustion of underlying self-insured retention and excess policies; and provide written and oral testimony in international arbitration related to the above.
Our experiences with Bermuda Form liability insurance have given us the opportunity to speak on the subject at industry conferences and to blog about the coverage in the past. However, we still felt there was more we could share with policyholders to help them be proactive in managing possible future Bermuda Form claims. Therefore, my colleague Nancy Gutzler and I co-wrote an expansive article —"Not for the Novice: Bermuda Form" — and we're proud to share that it has been published in the winter edition of DRI's In-House Defense Quarterly magazine. As the title indicates, Bermuda Form policies are not for the novice, but when facing "bet the company" litigation, they can be incredibly valuable. With some best practices (and seasoned coverage counsel), a policyholder can be in position to succeed when the need to tap Bermuda Form insurance arises.